North Charlotte Welcomes the 2013 Scion tC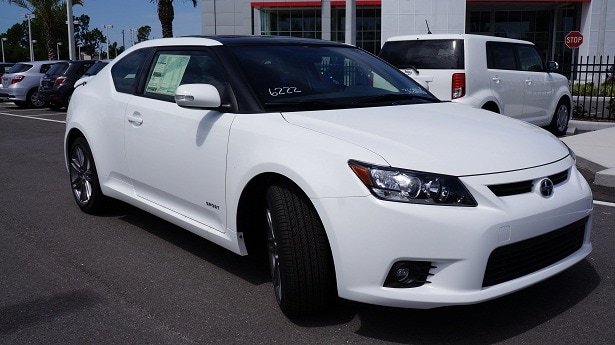 Toyota of North Charlotte is beyond excited about the arrival of the brand new 2013 Scion tC at our NC Toyota dealership. The N Charlotte Scion tC first hit the market in 2004 and has had many upgrades since then, including the Star Safety System (which was recently added a few years ago). This year, the talk of the town is the new Scion tC Release Series 8.0, which was co-designed by Toyota Racing Development and Five Axis Design.
This sporty coupe has been updated but hasn't gone through an entire re-design just yet. Honestly, why mess with a good thing? Instead, Scion decided to gear its focus on the Scion tC Release Series 8.0 in 2013 -  and we're eagerly anticipating its arrival at our N Charlotte Toyota dealership.

Scion tC Release Series 8.0 in N Charlotte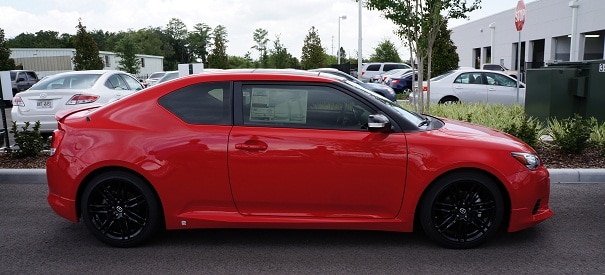 One of the most anticipated options of the 2013 models is the Scion tC Release Series 8.0. To emphasize the special nature of the limited edition  Scion has only made 2,000 models (similar to the unveiling of the Scion tC Release Series 7.0, an earlier edition). The car only comes in Absolutely Red, which its signature paint color and a hue that's sure to draw major attention. This Scion near Charlotte is most definitely a car designed to be recognized.
The interior of the 2013 Scion tC Release Series 8.0 is decked out with individualized red stitching to complement the exterior of the car, which has been outfitted with a two-toned rear spoiler, as well as all-black 18-inch wheels and black door mirrors. However, not only does this car look cool, it can also boast excellent performance on the road.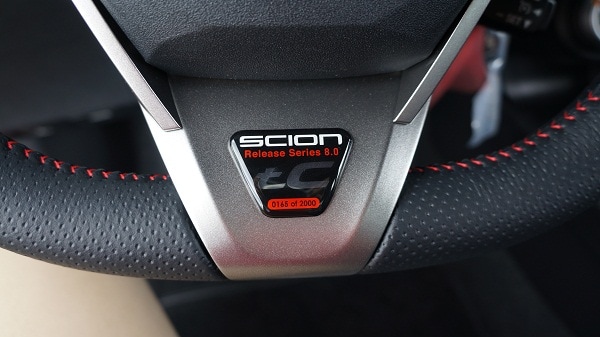 The N Charlotte Scion tC RS 8.0 automatic model comes with paddle shifters to make it more fun to drive, and possibly even save a little gas. From zero to 60 mph in 7.3 seconds flat with the manual transmission, this car is definitely no joke! The engine is driven by an impressive 180 horsepower and manages 173 pound-feet of torque. To make the 2013 RS 8.0 driving experience even sweeter, the gas mileage is 23 mpg city and 31 mpg highway. Not too shabby - especially when you consider that this car was tailored to appearance and performance, not fuel efficiency.



Sporty and compact, the 2013 Scion tC has it all!

For city driving, compact cars are not always the sportiest options. They may boast a compact size, but can often be too small for many NC Toyota drivers. The 2013 Scion tC in N Charlotte is compact, but we definitely wouldn't describe it as small. Even with a super-sporty design, it still comfortably seats five passengers. On the days you aren't driving with extra passengers, you can fold down the 60/40 rear seats for extra cargo space. 
Jam out to your favorite music with the eight-speaker Pioneer sound system and hook up your iPod with the USB port to keep your playlists at your fingertips. You can stream any genre of music you want with the Bluetooth technology, which comes built into nearly every Scion tC near Charlotte. Although CD players are "so 2000", each car comes with one for those of us who just can't give up our CD collection just yet. 
A chrome-tipped exhaust pipe adds to the sporty design on the exterior, and the signature panoramic glass roof is perfect for star-gazing on clear North Carolina evenings. All new models of the 2013 Scion tC in N Charlotte also come with a power tilt/slide moonroof. Additionally, don't let the "cool factor" get in the way of driving safety. Each model comes standard with the Star Safety System, which includes six different safety features to both help prevent and lessen the effects of a crash. From anti-lock brakes to better traction and extra stability, you'll have extra peace of mind driving around N Charlotte in the 2013 Scion tC.
The 2013 Scion tc in N Charlotte is a an excellent option for NC Toyota drivers looking for a car that offers appearance AND performance, and they're going fast! Our N Charlotte Toyota dealership is a proud provider of the entire Scion family, so we've got great choices if the Scion tC doesn't seem like it's a fit. Head on over to Huntersville, right off I-77, and visit us at Toyota of North Charlotte to test drive a new Scion tC today!