How to inspect a used car: a guide from Toyota of North Charlotte
When you're shopping for a used car you want to make sure it's something worth buying. But, to make sure you're spending your money on something that will last, you need to take precaution and inspect your N Charlotte used car before signing on the dotted line. Knowing exactly what to look for can be a bit confusing, so we at Toyota of North Charlotte have made a guide to help you spot potential red flags.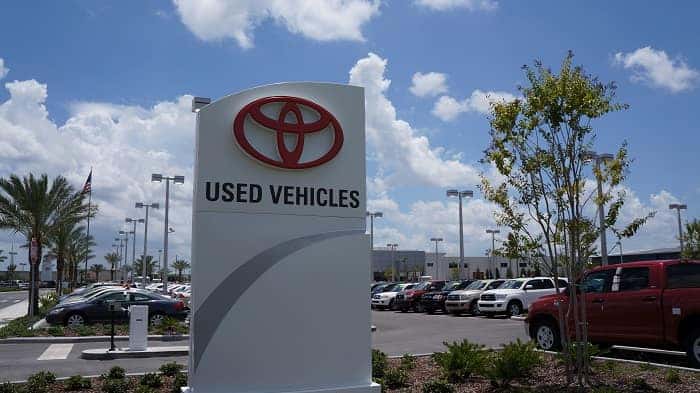 Toyota of N Charlotte's used car inspection checklist
Inspecting a N Charlotte Toyota pre-owned car can be a bit daunting, especially when you don't know exactly what to look for. Let's start with the exterior of the used car. Here's what you should be looking for:
Are there any dings, scratches, or dents on the used car?
Do any of the panels have mismatching paint or look misaligned?
Is there rust anywhere on the N Charlotte Toyota vehicle? This can include the trunk and undercarriage so be sure to check there.
Do the doors and trunk open and close as they should?
How do the tires look? Is the tread worn and by how much? Use a quarter to test the tread level.
Check the windshield and windows. Are there any chips or cracks?
After you've thoroughly inspected the exterior, it's time for the interior. Here's what we suggest looking for when inspecting a used N Charlotte Toyota vehicle's interior:
Is there an odor in the used car? If you're able to turn on the A/C, does a strange smell come from the vents?
How do the seats and carpet look? Are they free of stains and cuts or wear?
Test out the windows. Do they all work correctly and lock?
Do the doors lock and unlock correctly?
When starting the car, do any of the dashboard lights stay on?
Try out the A/C. Does it heat and cool and do the fans blow out enough air?
Does the radio system work? Test out the auxiliary inputs, USB ports, and Bluetooth connection. Do the speakers sound blown or badly balanced?
Do the windshield wipers and headlights work properly?
Do the front seats adjust correctly and the back seats fold down?
Does the parking brake work correctly?
Is there an included spare tire with a jack kit?
Is there a working key fob?
If there's a sunroof, does it open and close correctly? If you're suspicious of leaks, have it tested.
We know that's an extensive list, but trust us, you'll want to check every detail to make sure you're investing your money into the right used car. Now onto the performance and engineering in the N Charlotte Toyota vehicle:
Is there any rust in the engine compartment?
How does the battery look? Are the terminals corroded or rusty?
Are there any signs of fuel leaks from the undercarriage?
Does smoke come out of the exhaust when you're running the car?
Does the engine vibrate more than normal or make strange sounds when running?
When test driving the vehicle, are the brakes responsive? Does the car shift smoothly between gears?
Here are a few last-minute points we recommend checking as well when buying a used N Charlotte Toyota vehicle:
The N Charlotte used car's odometer reading. Does it match the description you were given and the vehicle history report?
If you're doing a private sale, does the owner have the title for you?
What year is the car?
If it was running when you arrived, be sure to turn off the engine and start it again.
Shop our used car inventory at Toyota of North Charlotte
If you're ready to shop for a used car, be sure to bring this inspection list with you so you know what to look for. But, if you're still unsure of what to inspect when shopping for your next car, come visit us at Toyota of North Charlotte! All our used cars are thoroughly inspected before hitting the lot and they're ready for you to take a test drive. Call us at (407) 298 – 4500 to schedule an appointment today!