The Most Common Auto Body Repair Jobs
Between oil changes, brake repair, and new Toyota shopping tips, auto body repair often gets lost and largely forgotten. But, with how often accidents happen, auto body repair is one of the most common things to be worked on for your car. Think about it, all the dents, cracked windshields, frame bends, and everything else that can possibly go wrong with your vehicle's body are all repaired thanks to a body shop. Luckily, if you're in need of affordable auto body repair, Toyota of N Charlotte is home to an excellent Toyota certified body shop! We sat down with a few of our auto body shop repair experts and asked them which repair jobs they see most often and how you can tell if you're in need of that specific repair job.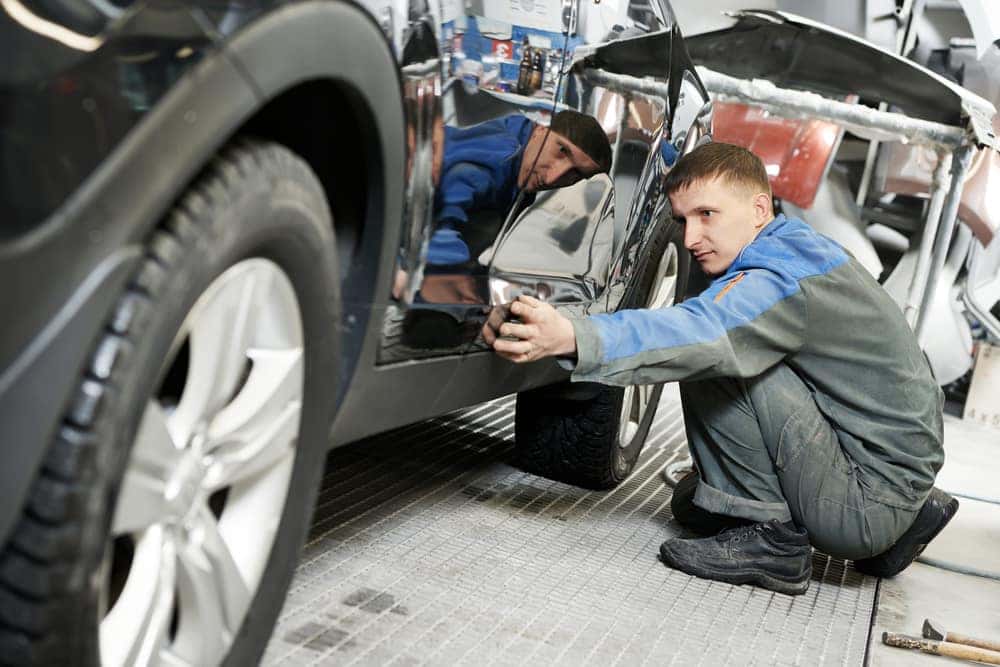 Most Common Auto Body Repairs from Toyota of N Charlotte
1) Dent Removal
Shopping carts, rogue soccer balls, and kicked up rocks from the highway are just a few of the small things that can cause dents on your car. This pesky damage is one of the most common forms of auto body repair. Depending on the extent of the damage you can ignore the dent or even repair it yourself. But, for larger dents or ones that involve a fair bit of paint damage, you may want to leave this one for the pros.
2) Window/Windshield Replacement and Repair
Windshield damage is another very common auto body repair jobs for N Charlotte Toyota vehicles. Depending on the car insurance policy you're currently using you could have your windshield repaired or replaced without having to pay a deductible. If you notice any cracks or chips in your auto glass, make sure to have it repaired soon as it could worsen over time.
3) Collision Repair
Collision repair is a general term that applies to any form of auto body repair that resulted from an accident. If you've been in a fender bender or something more serious then your N Charlotte Toyota vehicle likely needs several parts repaired.
4) Frame Repair and/or Alignment
While this type of damage could result from collisions, frame misalignment can be caused by a variety of situations. Regardless of how it occurs, it's essential to have this repaired asap. If you notice your vehicle is tugging one way when you brake or if you have some shakiness while driving, this is likely a sign you need to have your vehicle realigned or your frame repaired.
5) Car Detailing
Believe it or not, car detailing is a very popular form of auto body repair, but it doesn't technically count as a repair job. Many N Charlotte auto body shops receive requests for high quality car washing and detailing rather than typical dent and scratch repair. While our auto body shop doesn't do detailing for vehicles, our auto service department would be happy to help you out!
Auto body repair is something that requires an expert's handiwork to ensure a quality job that appears seamless and makes your damaged vehicle look new again. At Toyota of N Charlotte, our expert body shop techs pride themselves on a top quality job every time and are always here to help. Come visit us at 13429 Statesville Road seven days a week!