The Charlotte Toyota Collision Center can take care of all of your auto repair needs. Our professionals can even remove damaging rust from your car. Rust is a problem every driver should try to avoid on their vehicle. If you spot even a little bit of rust on your car, you should bring it to our Toyota Collision Center for auto repair in Charlotte right away. Rust may seem harmless; however, it's not an issue you don't want to ignore. Not only can it ruin the aesthetics of your ride, it can be extremely damaging and shorten your car's lifespan! This is why the experts at our Toyota Collision Center in Charlotte are sharing how you can prevent and remove rust from your vehicle!



Toyota of N Charlotte shares tips for preventing rust on your car

Rust can be removed from your car with the right Charlotte auto repairs, but it's not always that easy. Plus, if you let it go too long, the damage can be irreversible! This is why you want to prevent your car from forming rust to begin with. By preventing rust, you can keep your car in tip-top shape and avoid a visit to our Charlotte Toyota Collision Center for auto repair. Here are our tips for preventing rust on your car:


Wash your car: We suggest washing your car at least once every two weeks. You may have to do this more often in the winter when there's salt on the streets or if you live near the ocean because of the salty air. Don't forget to also clean underneath your car!

Wax your car: Along with washing your car, you should wax it at least every four months. The wax will help protect the paint from being damaged and rust from forming on the surface.
Inspect your car: While waxing your car, you should inspect it closely. Rust can form when there is a scratch that exposes metal underneath to moisture and air. If you see bubbling of flaking paint, it means that the oxidation process has already begun and you should get auto repair in Charlotte before it gets any worse!
Clean the interior: You should also try to keep the inside of your car clean. Rust can form from the inside if you spill liquid and don't clean it properly. This rust can spread to the rest of your vehicle, which can cost a lot of money in auto repairs!
Remove rust from your car with the help of our Toyota Collision Center in Charlotte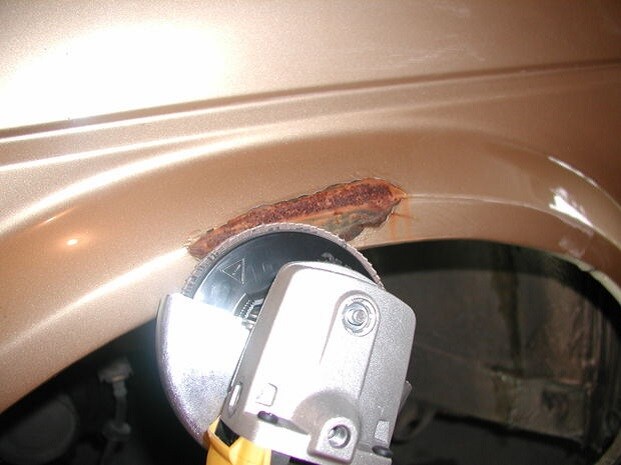 Rust can cause serious corrosion of your car! Once rust starts to spread, you never know how much damage it can do. This is why it's important to spot rust when it first starts to form on your car and take care of it with auto repair right away! Luckily, you have the auto repair experts at our Charlotte auto body shop to do the work for you. 

Removing rust isn't easy, which is why it requires the help of the professionals at our Toyota Collision Center in Charlotte. 

If the rust is just on the surface, we can fix it by grinding away the rust and covering the spot with a quality car paint job from our paint shop, which is located right on site.
If the rust has already penetrated the metal of your car and made holes, we can replace the panel for you with auto repair in Charlotte. We can also paint the panel to match the rest of your car to a 'T'! 

Leave this auto repair in the hands of the professionals at our Toyota body shop! We're located at 13429 Statesville Rd. in Huntersville. Give our Charlotte Collision Center a call at (888) 732-5310 to schedule your auto repair today!