It can be completely out of your control. Someone swings their car door open a little too fast and they leave a ding in the side of your car. Maybe a grocery cart went rogue and planted a sizeable dent in your bumper. However you ended up with damage on your car, fixing it is a must. Fortunately, our Toyota Certified Collision Center offers paintless dent repair.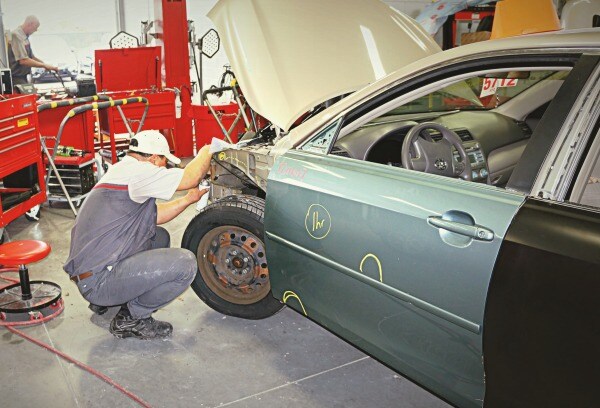 What is paintless dent repair in Charlotte?
A more economical and efficient method of repairing the bodies of vehicles has surfaced and grown in popularity, and that method is paintless dent repair. According to our Charlotte auto body shop, not only is it extremely effective, but paintless dent repair is also friendlier to the environment than traditional auto body repairs.
Instead of using fillers and paints, paintless dent repair works from the inside out. The dent is removed from the inside by being pushed out using a careful process. Traditional dent repair can get a car looking like new again, but it doesn't fix the actual damage done.
Essentially, paintless dent repair at our auto body shop in Charlotte takes three steps:
Inspect the damage. Our auto body shop technicians find the dent, measure how big it is, and identify how they will gain entry to it.
Access the dent and reassess. To perform paintless dent repair, our Charlotte auto body shop techs have to get to the backside of the dent. This process may involve removing panels, taillights, or bumpers. Once they've gained access, they take a second look at the damage to see how the repairs should be executed.
Apply slow pressure to work out the dent. Special tools are used to massage the metal back to its original condition and position. The repairs are done with the metal is smooth and even.
Fix up your car at our auto body shop!
It's important that you do NOT attempt paintless dent repair yourself. The technicians at our Charlotte auto body shop are experts and have been trained in this daunting auto repair process. Without the proper training, you could easily cause extensive damage. Our auto body shop experts have top-of-the-line tools and equipment that are meant just for the paintless dent repair process. If you attempt to fix the dent yourself, you could push the dent back out too far and stretch out the metal.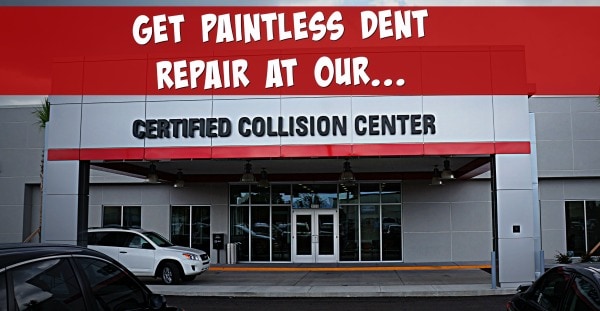 If your purse strings are pretty tight when the damage occurs and you want to put off auto repairs, you should bring your vehicle to our auto body shop in Charlotte instead. We provide affordable repairs that can accommodate any budget. Our auto body shop experts suggest not neglecting dings or dents. This is because damage not only decreases your resale value, but it could also cause eventual rusting and irrevocable destruction.
To get your car back in tip-top shape, bring it to our Toyota Certified Collision Center in Charlotte. Our affordable auto body shop can get your car looking like new in no time using paintless dent repair. If you have more questions about this auto repair service, give us a call at (888) 732-5310!