The holiday season is a wonderful time to give thanks and show appreciation to those around you. Here at Toyota of N Charlotte, we are so very thankful for our loyal customers and the dedicated staff that make every year at our N Charlotte Toyota dealership a great one. Now, we would like to pay it forward by giving back to the community! We selected a special organization to support this holiday season- North Mecklenburg Animal Rescue! 
Toyota of N Charlotte helps the homeless pets of North Mecklenburg Animal Rescue!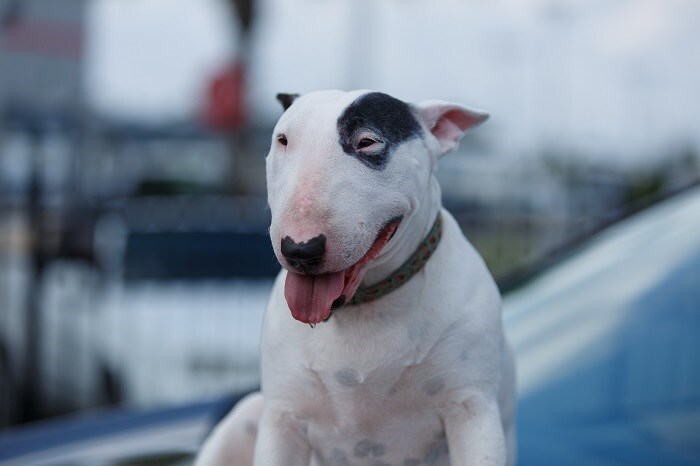 Our Toyota dealership understands the significance of having furry friends. In fact, our own Mr. Toyota, a playful bull terrier, makes up a very special part of our Toyota family. As cute and cuddly as our pets are there is also a responsibility that comes with being a pet parent. Not everyone that welcomes a pet into their house realizes this and resort to giving the animal up. That is where North Mecklenburg Animal Rescue (NMAR) steps in. 
North Mecklenburg Animal Rescue is a private, donation funded, no kill rescue that finds homes for unwanted dogs. Their mission is to help end pet overpopulation, abandonment and neglect. This local animal rescue organization provides care and finds home for dogs of any breed, age, or medical need. NMAR found homes for over 3,000 dogs in the last 13 years! The organization hopes to see these numbers continue to grow, but they cannot do it without our help.
We're hosting a holiday drive at our N Charlotte Toyota dealership to support th
?
is local animal rescue. We are inviting members of the community to help us make this holiday season a blessed one for the many unwanted dogs at NMAR. Here are some of the items you can donate to North Mecklenburg Animal Rescue:
Medium or large dog harnesses 

Leashes for small, medium, and large dogs

Bleach for laundry and cleaning

Laundry detergent

Cans of Easy Cheese or squeeze cheese

Spray cleaners with bleach

Gift cards for gas 

Gift cards to Walmart

Gift cards to Lowes, Home Depot, or any home goods department store
Our holiday drive for homeless animals starts December 1 and lasts throughout the entire month (ends December 31). Toyota of N Charlotte is open 7 days a week until 10pm, so you can drop off these items at your own convenience. There will be barrels available or you can leave the items with our receptionists up front.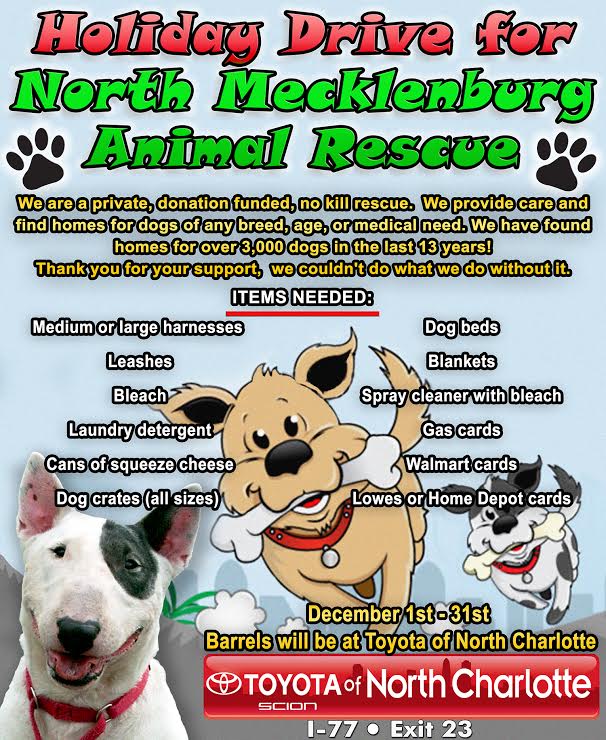 Make a difference in the lives of homeless dogs this holiday season!

Giving back to the community makes a difference in the life of others, as well as our own. We cannot help but feel good after performing selfless acts of kindness over the holiday season. After donating to this wonderful cause, we suggest you take a look at the many others ways you can support the homeless dogs at North Mecklenburg Animal Rescue. The organization could use your help in fulfilling some of these important roles:
MVP of Numbers

Sponsor a Dog Program

Volunteer Coordinator

Adoption Event Coordinator

Fundraising event help

Ebay Seller

Bully breed page on website

Marketing the dogs for adoption

Donation jar placement

Transport help
If you are interested in further helping the North Mecklenburg Animal Rescue and their efforts to find homes for unwanted dogs, then feel free to e-mail the animal rescue at nmeckanimalrescue@yahoo.com, or leave a message by filling out a short application under the "Contact" tab on their website. You can also send a letter to: NMAR, PO BOX 241, Harrisburg, NC 28075. 
At Toyota of N Charlotte, we wish you all a happy holiday season and encourage you to take part in this worthy cause. If you are a supporter of animal adoption, pet rescues, or just a lover of all things furry and cute- this holiday drive is for you! Give us a call at 888-883-3797 for more information, or visit us at 13429 Statesville Road in Huntersville.