When shopping for a new Toyota near Charlotte
, research is part of the process. How do you know you're getting the best truck for a great price? At Toyota of North Charlotte, we know that buying a new truck is a sensitive process. It involves time and your hard-earned money. We would like to suggest one of our most popular models -- the 2013 Toyota Tundra in N Charlotte
. It's a great truck that will keep you happy for years to come. To provide research to back our opinions, let's take a look at the Toyota Tundra up against its competitor model, the Ford F-150.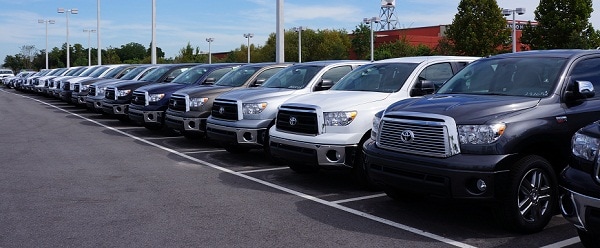 The N Charlotte Toyota Tundra outperforms the Ford F-150!
First off, when you're driving a truck you really want it to move. The N Charlotte Toyota Tundra
packs 21 more horsepower and 21 more pound-feet of torque than the Ford F-150! This is thanks to the 5.7-liter V8 engine that powers its performance.
 
Towing is also part of the deal when purchasing a truck. If you don't want many limitations on towing, the Toyota Tundra trumps the Ford F-150! The 2013 Toyota Tundra near Charlotte can tow 9,900 pounds compared to the Ford F-150 that can only tow a maximum 9,300 pounds. During the summer time you'll have no problem taking your jet skis all over NC! As for the payload difference, the Toyota Tundra offers 200 more pounds than the Ford F-150.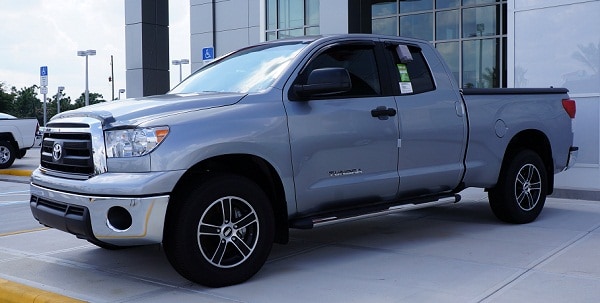 If you're going to be hauling around the family as well as jet skis, you're definitely going to want the maximum room in a new truck. The 2013 Toyota Tundra offers more leg room for your front and rear passengers than the Ford F-150 - we know that your passengers will thank you on long road trips.


Find great safety features in the 2013 Toyota Tundra! 
Safety is another area in which the N Charlotte Toyota Tundra excels. Not only does it come with the Star Safety System, it even has a feature not provided by the Ford F-150. You'll find Brake Assist implemented on the anti-lock braking system on the 2013 Toyota Tundra near Charlotte! It determines whether or not the driver is braking in an emergency, then assists by giving the wheels the maximum braking power. In essence, it allows you to bring your truck to a complete stop safely and more quickly. You can't find this feature on the Ford F-150!
 
Taking your truck off-road should be natural, without any expensive add-ons. However, if you choose the Ford F-150 it might be a more difficult process. The N Charlotte Toyota Tundra CrewMax has a ground clearance nearly two inches higher and an approach angle ability that's more than three degrees steeper. Taking this Toyota truck into the mountains is much easier than trying to maneuver with the Ford!

If you think you're ready to experience the difference, visit Toyota of North Charlotte today! We are located in Huntersville, off of I-77. We look forward to seeing you!