The N Charlotte Toyota Prius has been a popular option for drivers for many years. In fact, it's the best-selling hybrid vehicle in the world! Since its U.S. debut in 2000, many other hybrid vehicles have followed in its footsteps, but none compare. If you're on the market for a hybrid vehicle and have been doing your research, you may have noticed the Honda Insight is pretty comparable to this new Toyota hybrid. However, if you take a further look, you'll find the 2014 Toyota Prius in N Charlotte is the better choice.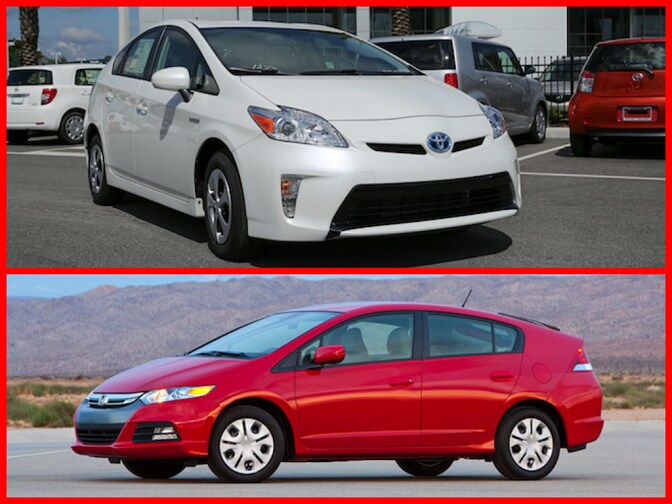 N Charlotte Toyota Prius outshines the Honda Insight

When we put the 2014 Toyota Prius in N Charlotte head-to-head with the Honda Insight, we found this new Toyota hybrid is clearly the smarter option. It outshines its competitor in a number of different categories including style, space, fuel efficiency and performance! Let's take a closer look.

Style

We bet you can spot a Toyota Prius in any crowd. This is because this new Toyota hybrid in N Charlotte has an iconic style that's highly recognizable! Although the Honda Insight looks similar, there's nothing quite like having the real deal, which is the sleek and aerodynamic hatchback design of the 2014 Toyota Prius! 

Space

Just because you're driving a hybrid vehicle doesn't mean you can't have space and versatility. Although both vehicles can fit up to five people inside, the N Charlotte Toyota Prius is classified as a midsize car with 94 cu. ft. of space, while the Honda Insight is only 85 cu. ft. and is classified as a compact car! This means everyone will be much more comfortable in this new Toyota hybrid, as it offers more headroom and legroom in both the front and back. It can also fit more gear inside, as it has 21.6 cu. ft. of cargo capacity behind the back seats, compared to 15.9 cu. ft. in its competitor. 

Fuel efficiency

When it comes to fuel efficiency, the 2014 Toyota Prius in N Charlotte leads its class with a fuel economy rating of 50 combined mpg! It clearly outpaces the Honda Insight, which only has a fuel economy rating of 42 combined mpg. This is because this new Toyota hybrid uses Toyota Hybrid Synergy Drive, which allows it to switch back and forth between a gasoline engine and an electric motor. Its Honda competitor uses a mild hybrid system, which relies mostly on a gasoline engine.

Performance

You'll also get better performance with the Toyota Prius, as it produces 98 horsepower, compared to 88 horsepower produced by the Honda Insight. Additionally, this new Toyota hybrid offers a more customized performance, as it has three different drive modes - EV, ECO and POWER! The EV drive mode allows it to run entirely on electric charge for maximum efficiency. The ECO mode controls various systems within the vehicle to minimize power use, while the POWER mode gives you extra energy when you need it! Its Honda competitor only offers an ECON mode, which is much like the ECO mode in the 2014 Toyota Prius near Charlotte.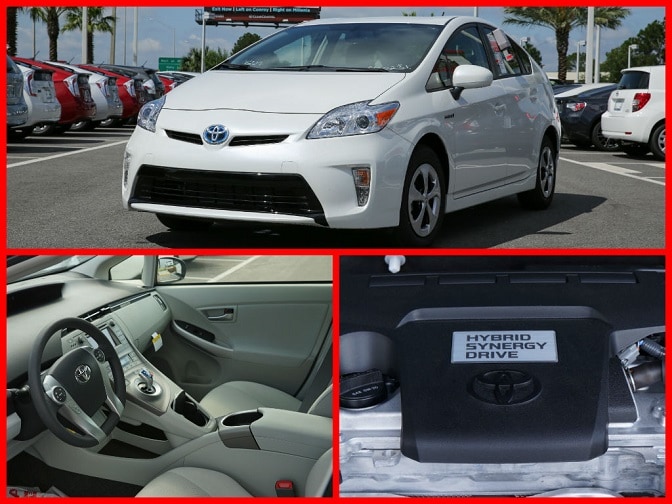 2014 Toyota Prius in N Charlotte offers more high-tech features!

When it comes to high-tech features, this new Toyota hybrid in N Charlotte delivers! Although its competitor has some similar features available such as Bluetooth, steering wheel mounted controls and navigation, it doesn't compare to some of the advanced technology in the N Charlotte Toyota Prius! These available features include:


Solar Roof, which powers a fan when parked in direct sunlight to keep the cabin cool for your return

Remote air conditioning, which allows you to start the air conditioning with the push of a button on your key fob before you get inside

Heads-up Display, which is inspired by advance aircrafts and projects information, such as your speed and navigation, on your windshield for easy viewing

Touch Tracer Display, which shows an image of your steering wheel controls on your Multi-Information Display, so you can control what you need without taking your eyes off the road

Visit Toyota of N Charlotte today to take this new Toyota hybrid for a test drive at 13429 Statesville Rd. We're located just off I-77 on exit 23. Contact our Internet Sales Team at (888) 883-3797 to learn more or to set up a test drive!