If you're looking for a hatchback vehicle that's just as fun to drive as it looks, check out the Toyota Yaris in N Charlotte. Although there quite a few hatchback vehicles on the market to choose from, this new Toyota has a personality all its own with its stylish image, cool features, sporty performance and more! It's also super affordable with its amazing fuel efficiency and low price. However, if you're stuck trying to decide between the 2014 Toyota Yaris and the Hyundai Accent, don't worry! 

Our Toyota dealership in N Charlotte wants to help you make the right decision. This is why we've done our due diligence to compare these two hatchback vehicles and help you find the better option! By putting these two vehicles side by side, we found the 2014 Toyota Yaris in N Charlotte clearly out-paces the Hyundai Accent!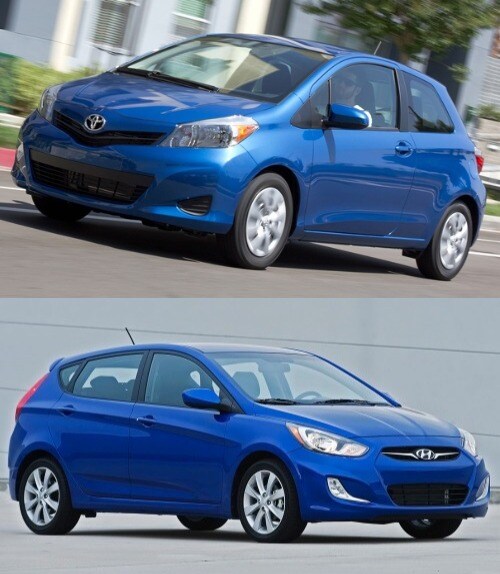 Get more for less with the N Charlotte Toyota Yaris!

One of the biggest selling points of the new Toyota Yaris in N Charlotte is that it's extremely economical! This is because it's affordable, fuel efficient and packed with value. It even beats its Hyundai competitor in each of these categories! Let's take a closer look.

Affordability

It's all about saving money when buying a hatchback vehicle and the Toyota Yaris stays true to this! It has an extremely low price tag with a starting MSRP of just $14,430! You won't as great of a deal on the Hyundai Accent, which has a starting MSRP of $14,645. It may not seem like a huge difference, but it all comes into perspective when you think of what you can do with the hundreds of dollars you can save with this new Toyota near Charlotte!

Value

Even with its extremely affordable price, the Toyota Yaris comes with a ton of value! Our new Toyota in N Charlotte have a great reputation for reliability, as 80 percent bought within the last 20 years are still functioning on the road today! This means you can be sure this new Toyota is in it for the long haul and you won't have to shell out money for a new ride any time soon. We won't get this kind of dependability with Hyundai! 

The N Charlotte Toyota Yaris also comes value-packed with ToyotaCare, which can save you money and hassle. ToyotaCare is a no cost maintenance plan that covers your new Toyota for two years or up to 25,000 miles! You won't find this it its Hyundai competitor!

Fuel efficiency

Speaking of saving money, getting a vehicle with great fuel efficiency can be very cost-effective! The new Toyota Yaris in N Charlotte definitely beats the Hyundai Accent when it comes to fuel economy, as it gets an estimated 30 mpg city (compared to 27 city mpg)!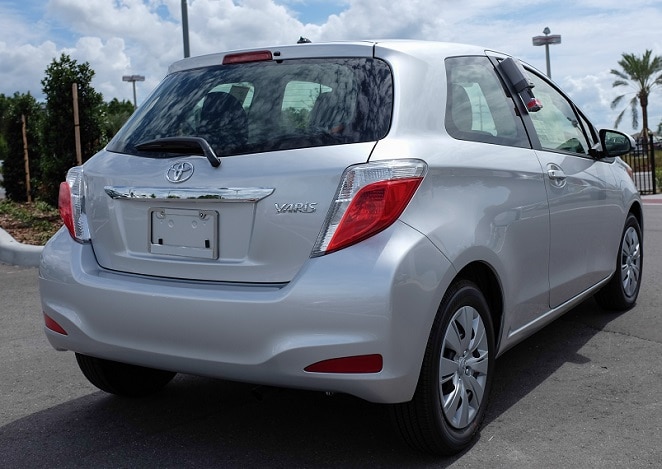 New Toyota in N Charlotte offers safety and exciting performance

When hitting the road, safety is always number one; however; the quality of your driving experience also matters. The 2014 Toyota Yaris excels at both by offering you safety, while still keeping things fun!

Safety

You can feel at ease when driving this new Toyota in N Charlotte, as it scored a better overall side crash rating than the Hyundai Accent and offers more safety features! Some of the safety features you can find in the Toyota Yaris that you won't find in its Hyundai competitor include:


Toyota Star Safety System, which comes standard with six safety features to help keep you in control with enhanced traction, stability and braking

Advanced Airbag System, which includes nine airbags versus six airbags in the Hyundai Accent

Daytime Running Lights, which improves your visibility no matter the time of day

Whiplash-Injury-Lessening Seats, which are designed to minimize injury that can be caused by a collision

Performance

Like we said, the 2014 Toyota Yaris in N Charlotte is extremely enjoyable to drive. It's perfect for driving through the city, as it has a tight turning radius of 30.8 ft., which is better than its Hyundai competitor's turning radius of about 34 ft. This makes it easier to maneuver through traffic and tight parking lots! This new Toyota also offers a smoother ride and enhanced handling because of its available sport-tuned suspension and sport-calibrated electric power steering!

Don't just take just our word for it - stop by Toyota of N Charlotte today to check out the 2014 Toyota Yaris for yourself! We're located at 13429 Statesville Rd. just off I-77 on exit 23. You can also call our Internet Sales Team in advance at (888) 883-3797 to set up a test drive!