Are you thinking about buying a new truck, but aren't quite sure where to start? We know shopping for a new Toyota truck in N Charlotte can be a little confusing, as there are a ton of different factors to take into consideration! This is why we're providing you with a guide to buying a truck.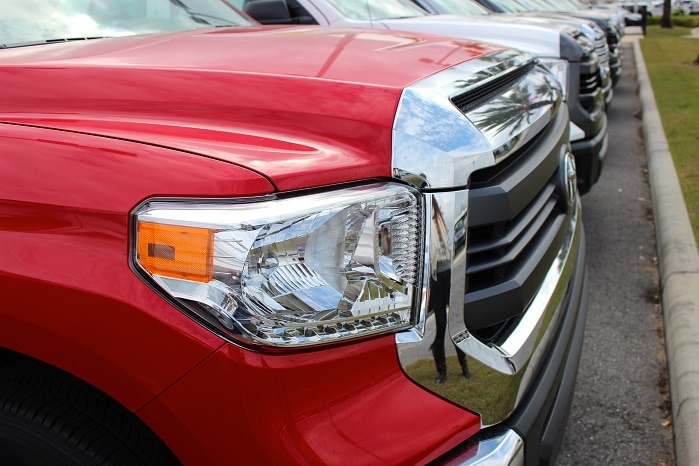 Toyota of N Charlotte's guide to buying a new Toyota truck
There are a lot of decisions to be made when buying a N Charlotte Toyota truck. You have to decide how much you want to spend, what size truck you want, the features you want, and more!
Budget
The first thing you want to do when buying a new N Charlotte Toyota truck is set a budget. Knowing exactly how much money you can spend on your new ride will help you with the rest of your decisions. It'll determine which truck you can afford and the features in it.
Size
Trucks come in a variety of different sizes, which means you have a lot of different options to choose from. 
Model: Do you want a compact or full-size pickup truck? We have both options available at our Toyota dealership. The N Charlotte Toyota Tacoma is our compact pickup truck. It's a great option for drivers who want some of the amenities of a truck, but with a cheaper price and better fuel economy! The Toyota Tundra is our full-size pickup truck. It's an ideal option for drivers who want a truck with a lot of space and maximum power!
Cabin: Once you choose the size truck you want, you can pick the size of the cabin. Both our Toyota trucks offer various cabin sizes. The N Charlotte Toyota Tundra offers a cabin with just one row of seats and two doors. Both Toyota trucks also offer a bigger cabin with two rows of seating and four doors or with two front doors and two rear-hinged doors.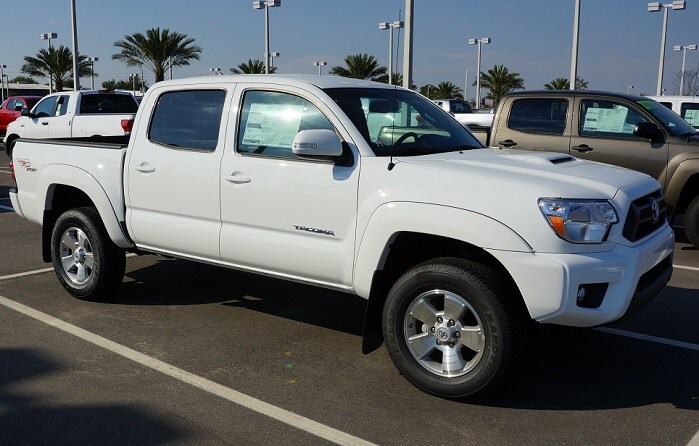 Performance
Performance is important to take into consideration when buying a new truck! You have to decide how much power you want, the towing capabilities you need, and more.
Engine: Both of our new Toyota trucks in N Charlotte give you options when it comes to engine size. The Toyota Tacoma offers two engines - a 2.7-liter 4-cylinder engine and a 4.0-liter V6 engine. The Toyota Tundra offers two different larger engines - a 5.7L V8 engine and a 4.6L V8 engine.

Towing: Is towing capacity important to you? If you know you'll need to tow large loads, you may want to go with the Toyota Tundra, which has a maximum towing capacity of 10,500 lbs. If you don't need all of this strength, the Toyota Tacoma will do just fine with a maximum towing capacity of 6,500 lbs.
Other capabilities: You also want think about the other performance capabilities you need from your new Toyota truck. If you need a truck to take off-roading, the Toyota Tacoma in N Charlotte is the ideal option!

Customize your new Toyota truck to fit you!
Features/package
You also have to find out what features come with our new Toyota trucks in N Charlotte and which ones you think you need in your ride.
Features: Every trim level our new Toyota trucks offer have different standard features. The more technology and high-end features you want in your truck, the higher trim level you'll need. However, you have to remember to keep your budget in mind, as each trim level goes up in price.
Packages: Don't see the features you're

looking for in a certain trim level? You can add a Toyota truck package with exactly what you want. For example, if you want an off-roading truck, you can add the TRD off-roading package to the Toyota Tacoma! 
Are you ready to get starting buying your new truck? Head to Toyota of N Charlotte at 13429 Statesville Rd. in Huntersville. Our team is here to help you every step of the way!