Buying a brand new ride is your chance to get a new Toyota in N Charlotte with all of the features you want. It's not hard to find a new Toyota on our lot to catch your eye, but how do you know if it fits what you're looking for? You can always just ask one of our knowledgeable sales specialists for details about our cars, but you can also find out this information on your own by checking the new car window sticker! Every new Toyota in N Charlotte has a new car window sticker on display and it has more information to share than just the price!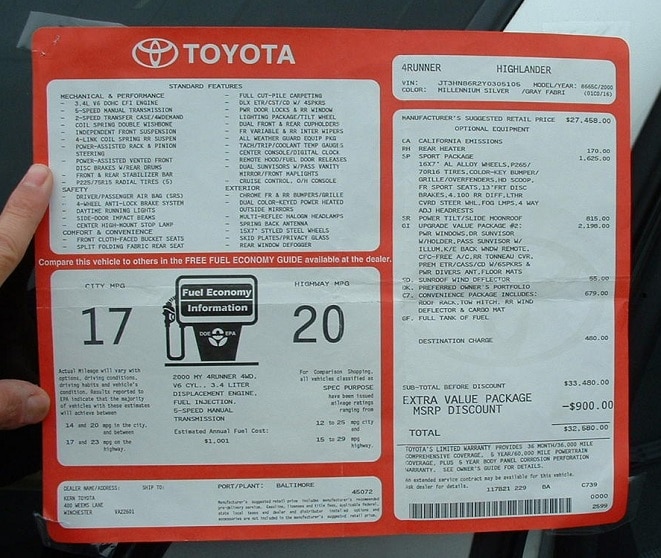 Toyota of N Charlotte explains information on new car window stickers


Before you buy a new car, you want to be sure you have all of the information you need about it. Like we said, all of our new Toyota in N Charlotte have a new car window sticker, as it's required by law to help keep consumers informed about their purchase. What important information can you find out about our new Toyota near Charlotte from the window sticker? Let's start with some of the basic information available:

Vehicle description

First, you'll find a basic description of the N Charlotte Toyota. This includes the make, model and VIN number. It also includes the color, trim level and interior treatment of the particular car you're looking at. You'll even find information about whether it's an automatic or manual transmission and what kind of engine it has without needing to look under the hood!

Manufacturer suggested retail price (MSRP)

You'll find the MSRP of the new Toyota in N Charlotte right on the window sticker of the car. This is basically the price suggested by the manufacturer and will give you an idea of where you should start when negotiating how much you'll pay.  

Standard equipment

This section gives you a list of all of the standard features that come with the car. These features typically coincide with the particular trim level of the car and don't include added packages. Standard equipment may include air conditioning, power locks, power windows, safety feature, and technology!

Fuel economy

You may also be interested in the EPA Estimated Fuel Economy Rating of the car, which is displayed right on the window sticker. It provides the mpg for city, highway and combined, so you can know how far you can expect to go per gallon of gas!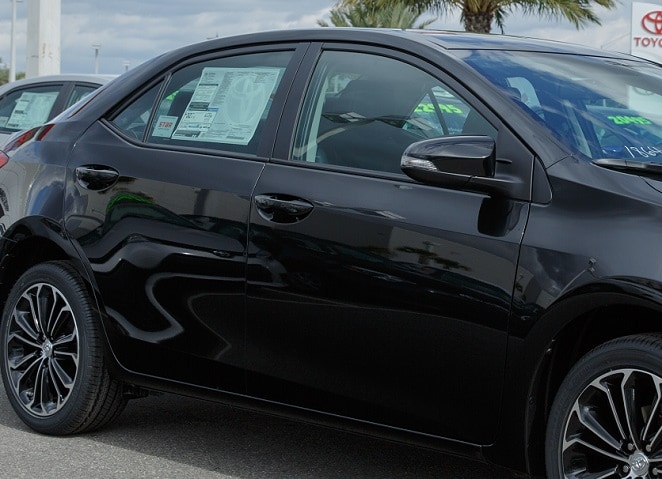 Get in-depth information about our new Toyota near Charlotte


Along with all of the important basics, you can find in-depth information about each of our N Charlotte Toyota on the window sticker, including:

Total price

In addition to the MSRP of the new Toyota, you can find a complete breakdown of the price listed. This includes the base price, options, added packages, discounts, destination charge and other fees. By taking a good look at this breakdown, you can figure out exactly what you're getting for your money!

Optional equipment

In this section, you'll find a list of the packages available with the particular new Toyota near Charlotte and how much they cost. If you're looking for a particular feature, you can check the optional equipment to find out if you can add it.

Safety rating

Safety is important for our new Toyota in N Charlotte, which every window sticker shares the safety rating. You'll find what the vehicle scored from the NHTSA star safety rating and sometimes the IIHS safety rating. 

Parts content information

You won't have to wonder where your vehicle was made. This section gives you a breakdown of which parts were produced in North America and where the vehicle was manufactured. You'll find that many of our new Toyota are manufactured in the U.S.!

Warranty information

In this section, you'll find a list of the warranties included. It provides information about what they cover, such as bumper-to-bumper or powertrain warranties and how long they last. You'll also see that every new Toyota in N Charlotte comes with ToyotaCare, which is a no-cost maintenance plan that lasts up to 2 years or 25,000 miles!  

Check out all of our options at Toyota of N Charlotte and get the information you need from our helpful Sales Specialists. We're located at 13429 Statesville Rd. Give us a call at (888) 883-3797 to set up an appointment for your visit.