Wanting to keep yourself safe is a natural instinct we have as human beings. No matter where you go or what you do, you always have your safety in mind. This applies to all situations, including learning how to sell a car. Our used car dealership in Charlotte wants to help you stay safe when selling your old used car!
How to sell a car safely
Our Charlotte used car selling experts have compiled a list of tips to help you learn how to sell a car safely - while still getting as money as you wanted for it. To avoid the potential dangers of privately selling a used car in Charlotte, use these tips:
How to Sell a Car Safely, Tip #1: Don't list personal information on the advertisement. When you post your Charlotte used car for sale online or in the newspaper, you should not include any more information than necessary. Necessary information is the type of car, the price of the car, its recorded mileage, and a way to contact the seller. You should not add information like your first and last name, home address, the car's VIN, or the license plate number.
How to Sell a Car Safely, Tip #2: Screen all potential buyers. Trust your gut when you talk to callers or respond to emails inquiring about your used car for sale in Charlotte. Ensure that respondents are serious about seeing the car and wanting to purchase it before you schedule a meeting.
How to Sell a Car Safely, Tip #3: Meet in a public place. You should meet somewhere that is well lit, if it is past sundown. You should never have a potential buyer come to your house and vice versa. Instead of putting yourself in harm's way, you should meet at a place where there are others around, or video surveillance. This is just in case the person you're meeting with has malicious intentions. Consider calling your local police station and asking if you can arrange a Charlotte used car sale in the parking lot.

How to Sell a Car Safely, Tip #4: Accompany the buyer on the test drive. To prevent theft, you should ride shotgun while the potential buyer is test driving the car. You also should not leave valuables in the car on a test drive.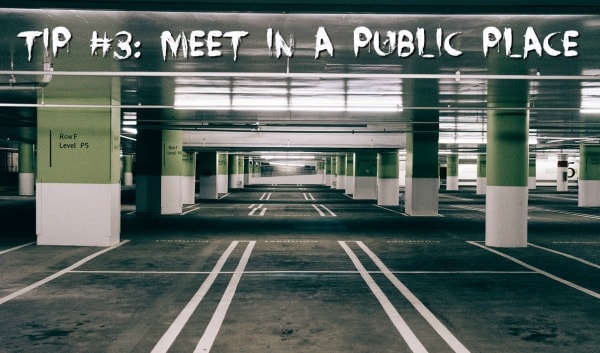 Stay safe at Toyota of N Charlotte!
We can help explain how to sell a car safely, but there's another way! Instead of putting yourself at risk, you can get rid of your old car safely at Toyota of N Charlotte! At our one-stop shop, you can have your old car appraised and trade it in right on the spot! You don't have to go home empty-handed, either. Instead of waiting for your car to sell before you can buy a new ride, you can drive home from our Charlotte used car dealership in your dream car!
For more tips on how to sell a car safely, or to trade in your old car, stop by Toyota of N Charlotte! We're located at 13429 Statesville Road, just off of I-77 at exit 23!