If you're a thrill-seeker and need a vehicle that's going to be able to take you on adventures, check out all of the off-road features available in our new Toyota
in N Charlotte! Not only do we build our vehicles strong and sturdy, we also have some amazing features to add even more capability. With all of the features we have available in our new Toyota, you'll be able to take them anywhere you need to go!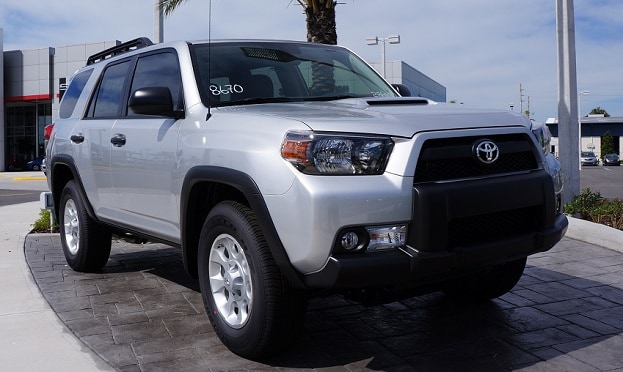 Find the strength you need built right in your new Toyota!


When you're looking for a new Toyota in N Charlotte to take off-roading, the first thing you need is a sturdy foundation. Although we have some amazing features you can add to our 
N Charlotte Toyota trucks
and SUVs to make them more than capable for exploring, let's take a look at some of the tough features they have built right in!


Body-on-frame construction: Some of our new Toyota, like the N Charlotte Toyota 4Runner

, are built from the get-go with the strength needed to go off the beaten path. Vehicles with a body-on-frame construction are equipped to handle tough situations, while staying protected.
Four-wheel drive: Every off-roading vehicle needs four-wheel drive to give it the strength and ability to get through tough terrain. Some new Toyota, like the N Charlotte FJ Cruiser, even come with the option to have full-time four-wheel drive or part-time four-wheel drive. This gives you the luxury of using it only when you want or need to!
Eight-cross member frame: The Toyota Tacoma in N Charlotte 

is built with strength in its frame. Its rugged frame includes eight heavy-duty cross members to serve as reinforcements that can withstand anything!
Powerful engine: Our engines are strong enough to power through every obstacle. Some of our new Toyota trucks and SUVs come with a V6 engine and others like the Toyota Land Cruiser even offer a hefty V8 engine!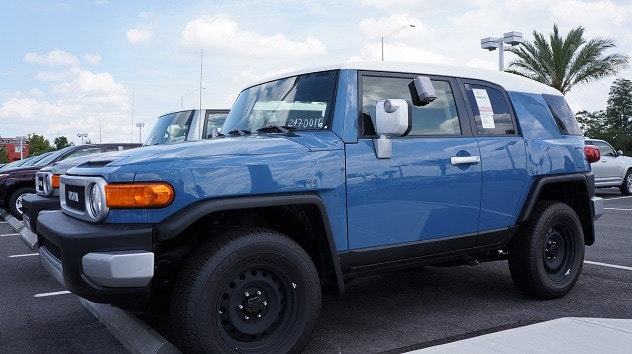 Off-Roading features in our new Toyota go beyond expectations!


Along with the capabilities built into our new Toyota near Charlotte, we offer some exciting features that take off-roading to a whole new level. With these features, you'll have all of the tools you need to go wherever you want! 


Multi-terrain select: You never know what kind of terrain you might come across when on an adventure, which is why some new Toyota offer Multi-terrain Select. This feature allows you to select between different surfaces including Rock, Rock and Dirt, Mud and Sand, Mogul and Loose Rock. Once you choose a setting, your vehicle will automatically adjust its wheel spin and brake lockup to optimize performance!
Crawl Control: Crawl Control will assist you in getting through rocky terrain with the choice of three low-speed settings. Once it's on, it'll automatically control the throttle and braking - all you have to do is steer!
HAC and DAC: Whether you're climbing a hill or mountain, these two features can assist you. HAC will help prevent your vehicle from rolling backwards on a steep incline when switching from the brake to accelerator. DAC will help prevent your vehicle from rolling forward when descending on a steep incline by automatically and selectively applying the brakes for you!
Kinetic Dynamic Suspension System: KDSS uses a special hydraulic system that automatically adjusts the suspension to adapt to different driving conditions. This makes it easy to drive on uneven terrain and gives you superior handling.
Locking Rear Differential: This feature helps evenly distribute power between both rear wheels to enhance traction on slippery surfaces. No matter what kind of slick surface you're traveling on, your vehicle will have the grip it needs!

Visit Toyota of N Charlotte today to check out all of our new Toyota for yourself and see which one you want to take on your adventures. We're located at 13429 Statesville Rd. off I-77 on exit 23. We also have tons of great specials to save you money!