Why does suspension matter?
You're driving down the road in your car; the one thing you're bound to notice is how well the car handles. Roads aren't perfect; they're full of tiny rocks, debris and bumps. While you may think your tires are equipped to handle a less than perfect surface, this is simply not true! Suspension is what keeps your car riding smoothly. Without it, you'd spill everything in your car no matter what surface you were driving on. The suspension is located in your front and rear wheels, minimizing impact on your axles, and there are many different types. Some cars have such amazing suspension systems you won't even spill your coffee!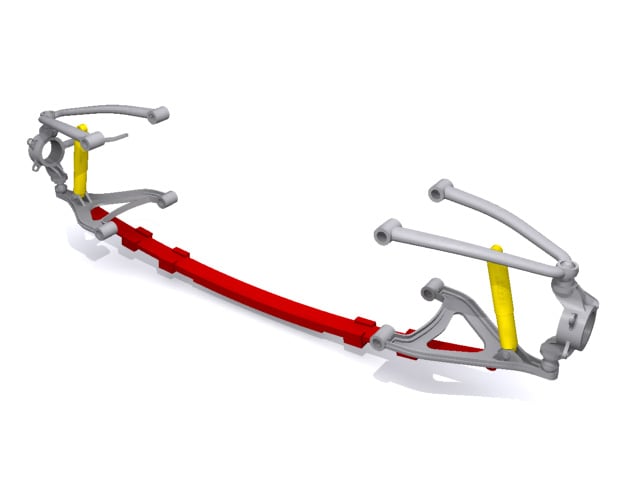 At Toyota of N Charlotte, we're here to unravel the mystery behind suspension. Now that we've established what it is, how do you know what type you want on your new Toyota near Charlotte
? Suspension systems come standard; that's not something you need to worry about! However, there are accessories you can add to improve your suspension. But first you need to know there are two different types of suspension: independent and dependent
.


Suspension is important to the performance of your car!
Dependent suspension is exactly what it sounds like. It means the two front wheel suspensions are connected, as well as the rear wheel suspension. You won't find this on many new Toyota near Charlotte. This type of suspension is considered outdated and old. The only thing it may be good for is truly tough off-roading. But even then, finding a dependent suspension is very rare.




Independent suspension is what you'll find in most new Toyota near Charlotte. It means each wheel is independent of the other and nothing connects the two. The most common front independent suspension is a MacPherson Strut - this also happens to be the standard suspension on the 2015 Scion FR-S near Charlotte
. Another common independent suspension, which can be used on the front or rear wheels, is a double wishbone. This allows for cars to minimize sway and roll when driving. In fact, this combination of MacPherson Strut to double wishbone is what makes the 2015 Scion FR-S such a fun ride!
There are also ways to improve your suspension. If you want your new Toyota near Charlotte to hug corners better, there is always a suspension that can be added on. We don't expect everyone to know exactly how to swap out suspension parts. That's why we have a Parts Department that can help you. If your car has been handling rougher than usual, it might be time to take a look at adding in new shock absorbers. You may also just want to enhance the performance of your car. It's really easy to do at our N Charlotte Parts Department!
The quality of suspension parts is extremely important. Considering the fact that suspension is the performance you feel out on the road, you don't want to be putting in faulty parts or ones that will wear out quickly. Visit our N Charlotte Toyota Parts Department for Toyota and Scion parts. Be sure to check out our parts specials in N Charlotte
! We are located in Huntersville, right off of I-77! We want to help your new Toyota perform its best!