When you get an oil change for your new Toyota at the N Charlotte Toyota service center
, all you have to do is pull right up and your auto service will be done in a snap. Changing your oil might sound easy but if you try to do it on your own, you might be in for a rude awakening. Not only do you have to do all of the labor yourself, but you might be surprised at all of the motor oil options you'll encounter when making a purchase. What are all of these different motor oils and how do you know which one fits the needs of your new Toyota
? Toyota of N Charlotte can help you with that!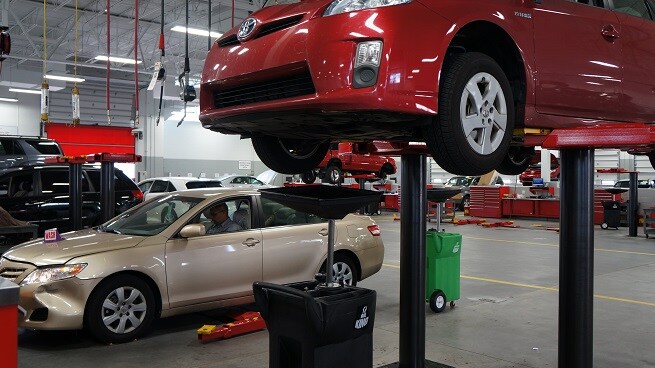 Toyota of N Charlotte helps you understand oil viscosity
 

When looking at motor oils for your new Toyota, you may see some numbers on the labels like 10W-30 or 20W-50. These numbers represent the viscosity, which is the resistance to flow of the oil. The number next to the W indicates the viscosity when the oil is cold and the other number represents the viscosity when the oil is heated up. The higher the viscosity number is, the more resistant it is. Finding out the viscosity your new Toyota needs can sound confusing, but luckily you can just look at your New Toyota owner's manual to see what you need or ask the experts at our N Charlotte Toyota Service Center
!


Different motor oil blends for your new Toyota


There are a variety of motor oils all with specific blends for different vehicles. There are oil blends for different sized vehicles, older or newer vehicles and even for vehicles with high-tech engines! Let's explore these options.


Conventional oil: This oil is the standard for most new cars. Buying conventional motor oil can save you money because it's cheaper, but it also doesn't last as long as other blends. Conventional oil also doesn't hold up well in extreme weather conditions, so you might want to take this into consideration when choosing this option.

Full synthetic oil: This artificial oil is made for high-tech engines. It also gives you the best performance - it flows in all temperatures and leaves almost no deposits behind. Although this oil can be more expensive, it can last up to three times longer than conventional oil, which means it might pay off in the long run. It's also beneficial to the efficiency of your engine and can even enhance your fuel economy.
Synthetic blend oil: This oil contains a mixture of synthetic and conventional oil. It will give you a little advantage over conventional motor oil, but not as much as full synthetic oil. Although it might not give your vehicle the same amount of efficiency as with full synthetic oil, it will be a better cost to you!

Higher mileage oil: This oil is formulated specifically for older vehicles with more miles on them. It benefits older cars by helping to prevent oil from leaking with its special formula so you won't have to add oil as often because of a leak. These oils also contain a higher viscosity to give your wearing engine better performance. 

The safest decision is the motor oil suggested in your new Toyota owner's manual. If you're still not sure, talk to a professional at our N Charlotte Toyota Service
Center! Our knowledgeable mechanics can help you with all of your new Toyota service needs.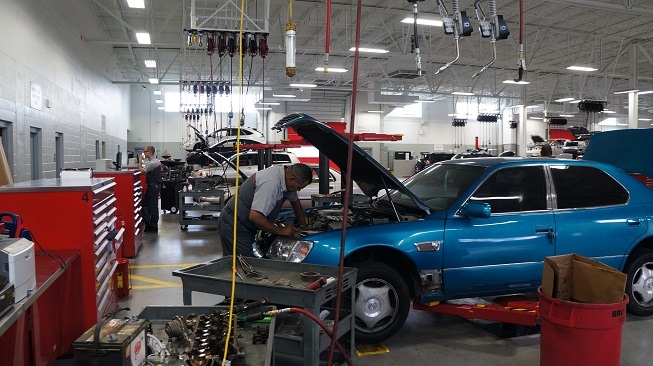 Visit Toyota of N Charlotte today for any auto service. We offer a variety of services and you can have peace of mind knowing its getting done the right way. Call our N Charlotte Toyota Service Center today to make an appointment at (888) 378-1214 and don't forget to ask about our service specials!