What happens to my car when it gets serviced at N Charlotte Toyota?

We know at our N Charlotte Toyota Service Center
that not everyone is a car expert, and we don't expect anyone to be. It can be confusing when you don't understand a repair or replacement your car needs. We want our customers to be prepared and armed with research when they enter our facilities. Here are a few definitions and explanations of certain parts and procedures to guarantee your service appointment will be a breeze!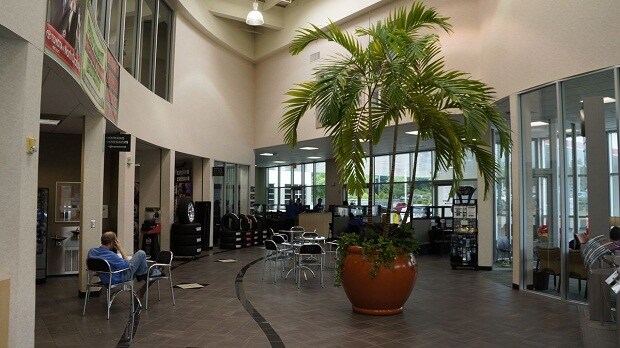 Spark Plugs
This is a part that many people have heard of, but aren't quite sure how they work. A spark plug ignites the spark to start the engine. In order to keep your car working properly, they need to be replaced every few months. It's important to note that this needs to be done by a certified technician and the spark plugs need to be the original type that were in the car.
Tire Rotation
This procedure is what you think it is: tire rotation. This helps your tires last longer and keeps your car driving smoothly, as well as ups your fuel efficiency.
Radiator and Condenser
At the Toyota N Charlotte Service Center, a technician will check out your radiator for any damage, rust or leaves that may have fallen into it. This is done to prevent any major from issues occurring.
Fuel Lines and Connections
Our trained Toyota technicians check out fuel lines for any cracks or leaking, and various other types of damage that may occur. They will repair anything they find immediately, so the problem doesn't worsen.
Exhaust Pipes and Mounting
In order to inspect this part of your car, our
Charlotte car repair
specialist will start your engine to listen for exhaust gas leakage. This insures any cracks or damage will be repaired to optimize performance.
Engine Oil and Filter
Many people know this car service rule, but forget to follow it. Your oil filter and oil must be changed on a scheduled basis. Our Charlotte car service specialist will be able to advise you on the recommended maintenance schedule you should follow depending on your make and model of your car.
Engine Coolant
Every so often, the engine coolant needs to be drained and replaced. Before our technicians replace your engine coolant, they will inspect the hoses for any leaks.
Engine Air Filter
Your engine air filter needs to also be replaced to ensure clean air coming through your engine for clean combustion. Our technicians at our Toyota Service Center in Charlotte will check your filter for damage and excessive oiliness. This determines if it needs to be replaced or not.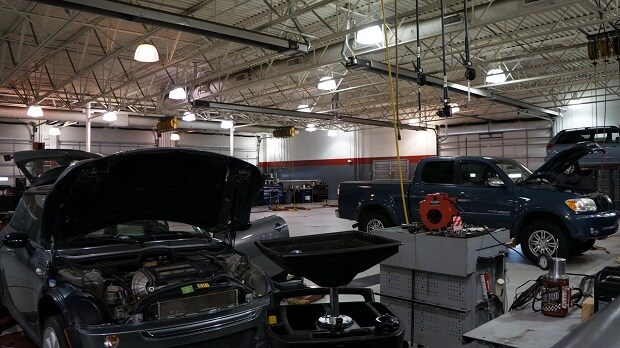 Cabin Air Filter
If you drive on unpaved roads a lot, or through very dusty conditions, your cabin air filter will need to be replaced more often. There are times when your air filter can be cleaned instead of replaced, and our technicians will let you know which is appropriate for your car.
Brake Linings/Brake Pads
Brakes are an important part of your car that need to be checked often for safety. Faulty brake pads will cause your brakes to underperform, causing safety problems. Our certified technicians at our N Charlotte Service Center will not only inspect brake pads, but will also check brake linings and drums for any damage.
Brake Lines and Hoses
These are also essential to your brakes working properly. The brake lines and hoses will be checked out by certified technicians for any cracks, deterioration or signs of leaks.
Transmission Fluid
Whether you drive an automatic or a manual transmission car, you will eventually need to replace the transmission fluid. Our Charlotte car service experts will let you know if yours needs to be replaced, but will also check for any damage or signs of repair that need to be taken care of.

Your car is in good hands at the Charlotte Toyota Service Center!

Armed with a bit of car knowledge, you can rest assured your car is going to be well taken care of. When you're in need of car service in Charlotte, call our Charlotte Toyota Service Center at (888) 378-1214 to make an appointment... Or schedule an appointment online today!