6 signs you need a new car alternator 
Knowing when your Charlotte Toyota car alternator is starting to go bad can be confusing and a little scary! It may have already started happening to you without you even knowing it. The slightest dimming of your dashboard lights dimmed headlights, or a funky smell can all be telltale signs of a car alternator hitting the bucket. That's why keeping up with your car maintenance is important!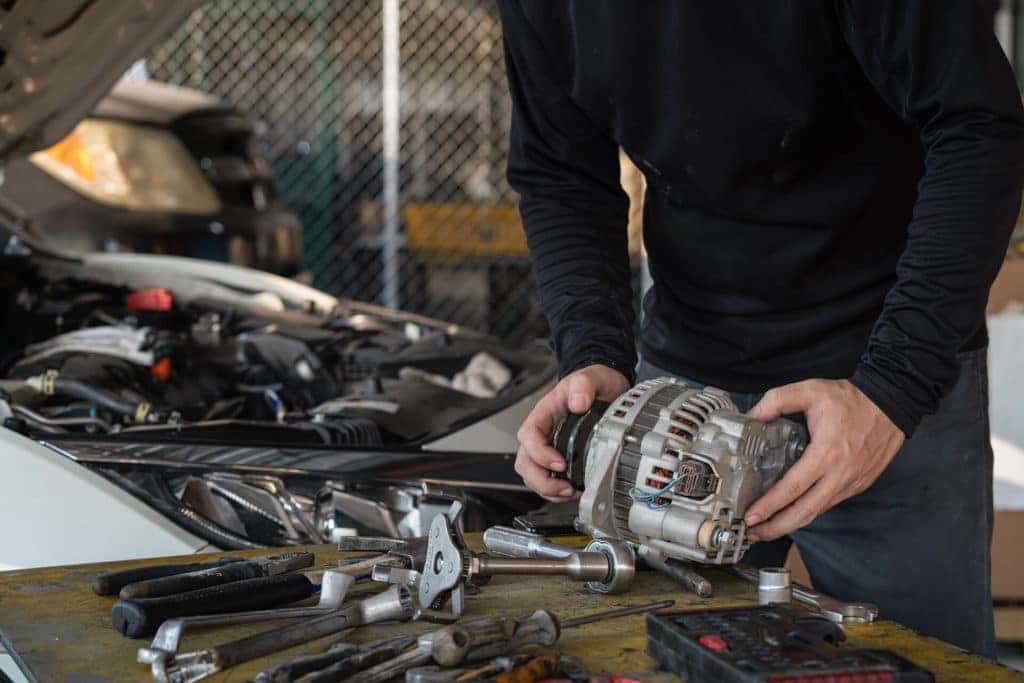 Let's get into what the car alternator is
Your Charlotte Toyota car alternator is the mechanical energy force of your Toyota vehicle. Your alternator powers the electricity in your car and keeps your battery going. Electric vehicles don't need an alternator, but hybrids and gasoline cars do need them! 
#1 Your lights are dim. 
You may think you've entered a horror movie if you experience flickering or dimming lights in your cabin. However, no need to be alarmed. This is just a sign that your car alternator is on its way out the door. 
#2 Warning light on the dash. 
At Toyota of N Charlotte, we try to make your life easier. That's why we're here to let you know about the handy dandy light on your dashboard! Typically, a light will show up that says "ALT" or "GEN." However, if your Charlotte Toyota car alternator is acting finicky, then the auto service technicians might only be able to read what the light is saying when it's actually on. Be sure to let your mechanic know if this is the case. 
#3 Battery goes kaput. 
It's never fun when your battery just dies on you before your commute to work. Nonetheless, a bad alternator can drain your Charlotte Toyota car battery! If this happens, you'll be looking at replacing your battery and alternator! That's why those warning signs are super important. 
#4 Funky odors. 
If you happen to get a whiff of a smell similar to burning rubber, then you should bring your car in right away to our Charlotte Toyota auto service technicians to diagnose. 
#5 Weird sounds. 
If you experience a weird, rattling noise while driving then this is another sign that you need to get this checked out ASAP! It could be your car alternator, or it might be something less serious. 
#6 Other electrical failures. 
One sign that might not come to mind are electrical failures. If your power windows, power locks, dashboard lights, air conditioning, or your radio start getting wonky, then this is a red flag. On the other hand, it might be something else causing the issue, but the alternator can be an easy fix. 
Come see us at Toyota of N Charlotte! 
At Toyota of N Charlotte, we know that your car is super important to you. That's why we have the best auto service technicians at your disposal! Ready to have an auto service? Just book an appointment at (704) 659-2025. We're open seven days a week at 13429 Statesville Road! Just take exit 23 off I-77 in Huntersville! We look forward to helping you today!