Easy car maintenance guide for college kids
You've prepared them for just about everything you can think of. Move in day, first day at college, how to make simple meals, you name it, you've taught it. But, have you remembered to teach your college student basic car maintenance? Knowing how to care for your N Charlotte Toyota vehicle is an essential skill that every driver should know in case they find themselves encountering a car maintenance issue. To make sure your college student knows their way around a vehicle enough to get themselves out of situations like flat tires, low fluid levels, and breakdowns, it's best that you, their parents, teach them how! If you're unsure where to start, you're in luck! Toyota of North Charlotte with an easy to follow guide on vehicle maintenance.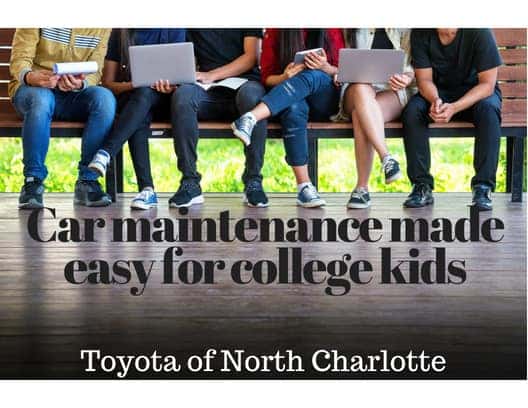 Toyota of North Charlotte's car maintenance guide
1) Check tire pressure on all five tires.
Your N Charlotte Toyota vehicle's tires are one part that takes the most punishment from the road. Showing your college student how to check pressure and assess tire condition will save them from a sticky situation like getting a flat tire. When using a gauge to check tire pressure, make sure to also check the spare tire so it's ready when you need it. Showing your child how to check tread depth is another useful car maintenance skill to have. Make sure to use a quarter and see where the top of the tread meets George Washington's head. The tires on the N Charlotte Toyota vehicle should be checked one to two times a month.
2) Check battery condition.
The battery in a N Charlotte Toyota vehicle can encounter several car maintenance issues like, corrosion, rusting, swelling, and leaking. Checking its condition regularly will save your college student from having an unexpected break down. But, if they do, make sure to send them to school with a set of jumper cables.
3) Inspect and top off essential fluids.
The fluids in your N Charlotte Toyota engine are essential for performance and normal function. Without them, your college student's vehicle would break down. Teaching your college kid to check fluid levels is easy! Simply find the appropriate tanks for fluids like coolant, windshield wiper fluid, radiator fluid, and power steering fluid and see where the levels are in relation to the given measure lines. If they're low, simply add fluid and then you're good to go!
4) Clean the N Charlotte Toyota vehicle regularly.
Finding the time between homework, labs, and projects to clean a car is difficult for a college student. But, having a clean ride is an important car maintenance procedure your college student shouldn't skip. Make sure to show them how to give a thorough detailing by vacuuming the carpets, wiping down all surfaces, cleaning the exterior, and applying wax to protect the paint. This will keep your college student stress free when driving and make it easier to keep organized.
Your car maintenance questions answered at Toyota of North Charlotte
Sending your child off for a new semester can be stressful and full of worry but have no fear! Toyota of North Charlotte is here to help answer any questions and take care of your kid's first round of car maintenance! Give us a call at (704) 659 – 2025 to schedule an appointment today!