Minivan vs SUV: choosing the right family vehicle
Making sure your family is safe and can ride comfortably in your N Charlotte Toyota vehicle is always of utmost importance when shopping for your next family vehicle. As families have grown, so have the options for large vehicles and their features. Most family vehicles can be categorized into either SUVs or minivans and while they may seem synonymous, they're quite different when it comes to their engineering, features, and amount of space. If you're stuck trying to decide on the right vehicle for your family, you're in luck! At Toyota of North Charlotte, we've put together an informative guide to help you narrow your options and get you behind the wheel of your next family vehicle.

Things to consider for your next family vehicle
N Charlotte minivans and SUVs sport a great amount of space fit for any family, but their differences should be heavily considered when choosing your next vehicle. Things like cargo and seating space, family-friendly features, and versatility.
Space
Perhaps the main reason many drivers switch to N Charlotte Toyota family vehicles is to have room to spare for extra passengers or cargo. Depending on how much space you'll need, SUVs and minivans provide several options to choose from. Here are some of the interior specs for several N Charlotte Toyota family vehicles:
The Toyota Highlander (an SUV) seats up to eight and has 13.1 cubic feet of cargo space. It gets an EPA estimated 21 city/27 highway mpg and comes in an available hybrid option for even better fuel efficiency.
The Toyota Sienna minivan seats up to eight passengers as well and has 39.1 cubic feet of cargo space. This family vehicle gets an EPA estimated 19 city/27 highway mpg.
The N Charlotte Toyota 4Runner can seat up to eight people, has 47.2 cubic feet of storage, and gets an EPA estimated 17 city/21 highway mpg.
Family-friendly features
When it comes to features that are fit for a family, SUVs pack a punch, but minivans take the cake! The Toyota Sienna has power sliding doors and a dual-display Blu-ray entertainment system that make for an entertaining ride for your little ones. But, SUVs do come equipped with convenience technology like climate-control A/C, fold-flat rear seats and possible third row seating, and Bluetooth connectivity.
Versatility and engineering
Minivans definitely win when it comes to space and family-friendly features, but they can't compare to the versatility and unique engineering that goes into many SUVs. For example, a N Charlotte Toyota 4Runner is equipped with off-roading capabilities. Four-wheel drive, CRAWL Control, Multi-terrain Select, and a towing capacity of 5,000 pounds are things you'd never find in a minivan.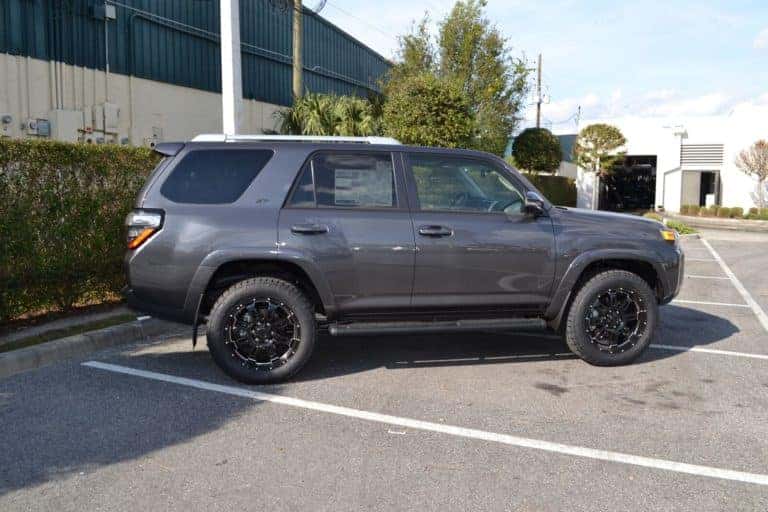 Test drive them both at Toyota of N Charlotte
Choosing the right family vehicle often boils down to features and space and it can be difficult to really know what you and your family need from a new vehicle. Luckily, we can make it easy at Toyota of North Charlotte! Our expert auto sales staff would be happy to walk you through the differences in both family vehicle types and get you driving one home at an affordable price. Give us a call at (704) 875 – 9199 to set up an appointment today!