First Female NASCAR K&N Pro Winner: Hailie Deegan drives a Toyota
Late last month, 17- year- old Hailie Deegan won the NASCAR K&N Pro Series being the first female since 1989 to have won the title. Deegan's popularity since then has increased especially due to being a female teenager to have won this title. Why is it that here at Toyota of North Charlotte we're celebrating this win? Not only has she made history, but the winning vehicle she used for this NASCAR Race was a Toyota Camry! In Toyota of N Charlotte, we take pride in our vehicles and what we represent, and what we would hope for our customers to take from this win is not just that our cars are NASCAR-worthy, but the fact that our cars provide a sense of accomplishment. We'll admit we can't take all the credit for this win. Here at Toyota of N Charlotte, we actually have some insight on how this young prodigy prepared for the NASCAR race.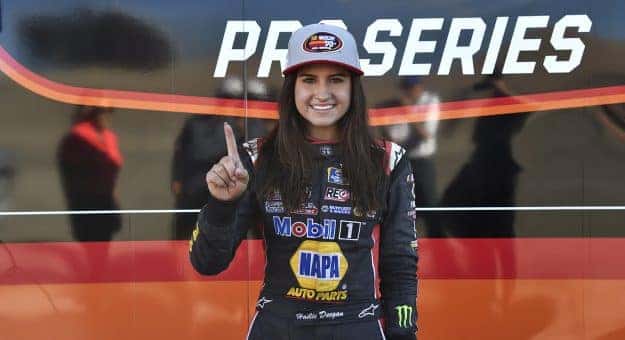 Hailie Deegan is the daughter of Brian Deegan—a motocross rider, racing driver, and founding member of the Metal Mulisha. He actually started at the same age Hailie is today. So there is no doubt that racing is found in Deegan blood. Anyhow, North Charlotte Toyota customers are wondering how the craze of Hailie Deegan came to be; and it's pretty simple.
For one thing, Deegan had been racing since she was 8 years old. Many wonder how a child has been able to drive—especially without a license. Following in her daddy's footsteps, Hailie actually began by off-road racing. Her dad noticed her interest so he built a dirt oval for her to practice driving in their backyard. Customers take note! If your little prodigy takes an interest in NASCAR and driving, keep in mind that this is a dangerous sport; therefore it's best to limit their practice to the backyard and DO NOT have them use your N Charlotte Toyota vehicle.
In addition Toyota of N Charlotte is proud to say that Deegan is part of the Toyota Driver Development program. This program helps young drivers create a name for them and advance in their driving careers through racing ranks. The program has also produced other NASCAR national champion drivers such as Erik Jones and Christopher Bell. Without question, Deegan has a drive (no pun intended) that empowers not only females but everyone in general. She wants to win at every level before moving up and aims to be the best driver—not the best female driver. With a male dominated sport like racing, her determination is strong which makes it completely possible to achieve this goal.
Despite Deegan being a NASCAR master, she is still a regular teenage girl. She loves listening to music; her favorite artist is Eminem and in fact she blasted his music before the race. She also just recently graduated from high school and had her own personal graduation ceremony at a race track.
We're always proud when individuals are making it big! Has Hailie Deegan inspired you to pass that checkered flag? Take a trip down to Toyota of North Charlotte so you could check out our new Toyota inventory to score yourself your own Toyota! Who knows? Maybe you'll be the next Hailie Deegan. We're open seven days a week located at 13429 Statesville Rd.