New Toyota Technology for Ridesharing and E-business Mobility
The future is looking brighter and brighter thanks to new Toyota technology. It was recently announced that Toyota will soon be looking to start a mobility business in Europe. Our expert team at Toyota of N Charlotte are here to give you all the information you need to know about this futuristic Toyota technology.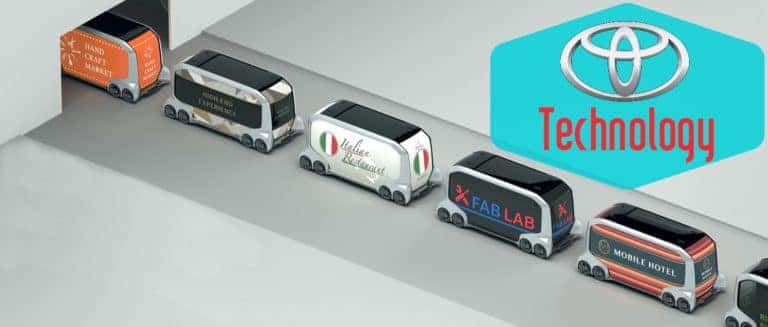 Toyota technology of the future 
Toyota has always been ahead of the technology curve. We were one of the first car makers to introduce a North Charlotte hybrid vehicle into the mainstream public, and this is no different! Toyota Europe hopes to expand the current capabilities of technology-driven products and make them specifically tailored for each market that they're in.
To stay on top of the technology game, Toyota is going to be working with the company e-Palette to develop a vehicle and mobility services for business applications. Here are some ideas of the ways that this N Charlotte Toyota technology can be used in the future:
You will be able to use this technology to ride-share with your fellow commuters. They're hoping that this technology will be advanced enough to connect people with other commuters who are going on the same route to work around Charlotte. This should help save gas, reduce CO2emissions, and help eliminate cramped parking situations at work.
Autonomous stores and restaurants 
Toyota is collaborating with major companies for this project to make sure that it is a success. Companies like Amazon, Pizza Hut, and Uber will be collaborating with this technology. They want to find faster and more cost-effective ways to get their product to the consumers. They are saying that this N Charlotte Toyota technology will truly be what "e-commerce" is about. You will be able to have a mobile store roll right up to your location and you can shop for what you need right there! Imagine needing to get a new pair of running shoes and having a shoe store come up to you on the street. Then you would just have to step inside and try on shoes until you find the ones you like. Sounds great right? This would make dealing with hectic mall traffic a thing of the past!
These vehicles can also serve at mobile hotel units! Just imagine how convenient it would be to have a mobile hotel come up to you on the street. Doesn't that Toyota technology sound convenient? It's also rumored that these mobile hotels will be able to be on the road and drive you to a location while you're staying in it. These autonomous vehicles would make taking a road trip cross-country much more convenient.

Modern N Charlotte Toyotas
Do you want to get a modern new Toyota of your own? Then come into Toyota of N Charlotte and shop our wide selection of vehicles that are suited-up with Toyota technology. Our product specialists will be happy to walk you through all the technology features each Toyota car offers while you're taking them for a test drive. We're located at 13429 Statesville Road, off I-77 in Huntersville. You can schedule an appointment online or by calling us ahead of time at (704) 875-9199.