Suggestions for Films to Watch in the Theaters for Date Night
We know that when life gets going, sometimes it's hard to stop and take a breather. Here at Toyota of N Charlotte we know how important it is to make sure everyone gets the perfect amount of work/life balance. This is why we suggest just hopping into your N Charlotte Toyota and head to the movie theaters for a date night. Here's a list of movies currently in theaters that'll make for a great and memorable date night.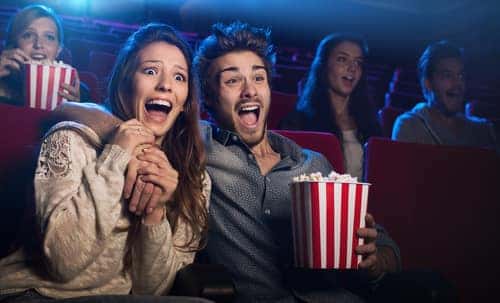 Jumanji: The Next Level
The Rock and Kevin Hart just compliment each other too well. This sequel is just as comedic as the first one and if you're into action, there's a lot of that going on too! If you're not familiar with the synopsis of the film, a group of teenagers get sucked into a fantasy game named Jumanji. But in order to get out of the the game, you have to beat it. In the sequel they believe they're able to beat the game only to find out that there are more obstacles and danger to overcome.
Knives Out
If you're going on your first couple of dates, this is the movie with the perfect amount of suspense that'll get your date to lean on you. After a popular crime novelist unexpectedly dies after his 85th birthday, a detective arrives his estate to investigate. The ensemble cast this film holds brings a lot of expectations for wins during award season. The film stars A list actors like Daniel Craig, Jamie Lee Curtis, Toni Collete, Chris Evans, Lakeith Stanfield, and more!
21 Bridges
Chadwick Boseman is breaking out of his Black Panther shell with his role as an embattled NYPD detective. As the film progresses, the NYC detective joins a citywide manhunt for two cop killers. The search becomes more intense forcing law enforcement to close Manhattan's 21 bridges to prevent the suspects from escaping. If you want drama and mystery—in the film, not your relationship—then this is the film form your date night.
Playing With Fire
Family comedies are many people's guilty pleasures because it lets you escape from the pressures of reality. Playing With Fire is just the film to help you through stress. It's quirky, friendly, comedic, and anything is always funny when you put a big tough guy (John Cena) to interact with rebellious children; same kind of ordeal as The Pacifier.
Black Christmas
What better day to spend a date night than to watch a slasher film? Especially during Christmas time! The film takes places at a college campus= where there has been a stalker murdering young sorority girls one by one. It isn't till later that the stalker realizes this generation of women aren't willing to become hapless victims and fight back.
We hope these suggestions will make your date night memorable and fun. For more Fun Friday Posts check out our blog every other Friday! And if you're searching for a new ride perfect for date night, stop by our lot today at Toyota of N Charlotte. We're located at 13429 Statesville Rd just off I-77 at exit 23 in Huntersville.