How to Winterize Your Toyota
Spooky season has been good to us and now it's time to prepare for the next season because "winter is coming!" Have you thought about ways you could winterize your car? We get it, "winterizing" sounds pretty cheesy, but it's absolutely necessary—especially because of the weather conditions that occur in the Charlotte area. You don't have to worry about what to do to winterize your car anymore; here at Toyota of N Charlotte, we've got some tips for you to follow to make sure your car is in tip top shape for this coming winter season.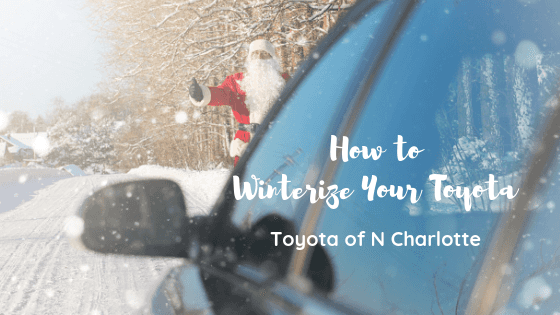 Summer off… Winter on!
Many car gadgets and extras are default summer-friendly, whether it be wiper fluid or oil. For someone who isn't vehicle savvy, changing the fluids of their N Charlotte Toyota vehicle is that last thing that crosses their mind.
Replace and/or refill all fluids: Make sure you purchase an anti-freeze wiper fluid to keep your vision clear from any potential hazards caused by frozen ice on the windshield. Having anti-freeze coolant is also critical to your car's "health". This will prevent the fluid from freezing your radiator, which also means it will prevent any further car troubles related to that car part. As for your car's oil, many don't think to do this but an important step to winterize your car is to change your oil. Many mechanics recommend changing to a thinner oil—especially since temperatures in Charlotte drop enough where your Toyota gets affected. For more information, you can check your owner's manual or check with a Charlotte auto service tech to see what he or she recommends.
Check your battery capacity: Cold weather can cause some damage to your battery. Therefore, make sure you check for cracks and breaks on your battery. Refill your battery fluid if the level is below the bottom of the cap.
Replace and/or check your tires: Have you ever bought a balloon (already blown up) at a store? Then when you walk outside in the cold weather, you realize that it's not as inflated as it was before? You then walk back in the store to exchange it but it goes back to normal. What made it have less air in the balloon was the cold weather. Cold weather will have a similar effect on your Toyota tires. You could winterize your car tires by making sure that it has the correct PSI. Low air pressure is prevalent in cold weather conditions so keep that in mind the next time you get your car serviced.  In addition, if you're looking into snow tires, make sure you change all four tires! Having the combination of summer/snow tires makes traction on the road more difficult and can cause you to be in a car accident.
Be prepared for any situation. Winterize your car with an emergency kit
Having a packed emergency kit in the trunk of your Toyota is always a good idea. It should be updated for every season so that you have the proper materials needed in the event of an emergency. Winterize your car with a special kit that will protect you from freezing.—Toyota of N Charlotte can help you find the right tools.
Add these items to your winter-safety kit:
Coolant
Sand (in case your tires get stuck in the snow)
Small shovel
Flashlight
Blanket, leather gloves, hat
Snacks
Besides the aforementioned, having a jack and lug wrench in case of a flat tire is good for all seasons.  Need help to winterize your car? Bring in your car to Toyota of N Charlotte so one of our service techs can assist in the transition from summer to winter! Schedule an appointment online or call (704)659-2025. We're located at 13429 Statesville Rd off of I-77 in Huntersville.