Car Seat Safety
Safety is always a concern for many N Charlotte Toyota drivers and it's a quality that our vehicles certainly don't lack. This is why choosing a N Charlotte Toyota is always the best choice. They're all equipped with the latest safety technology, and the company is always striving to take their safety features to the next level. Nevertheless, technology isn't the only way to make your drive time secure; it also has to do with your driving habits—which are in your control.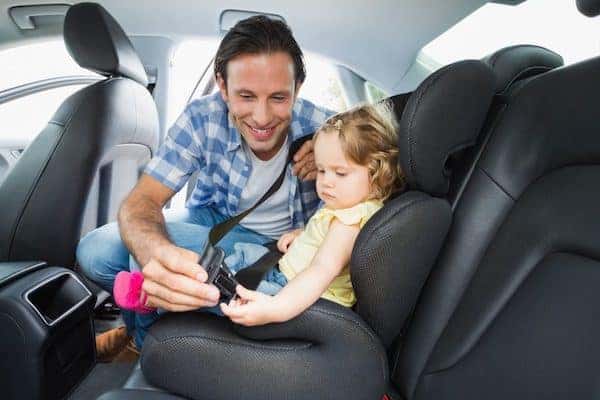 Do you know how to implement car seat safety in your N Charlotte Toyota?
Car seat safety often gets overlooked when the topic is brought to light. Are you an expert at installing a car seat in your vehicle? Do you know which car seat best suits your child? If you're clueless, we have your back. Toyota of N Charlotte has all the information to help you with this topic.
First things first, something you should know is that the latest Toyotas come with an optional LATCH system (Lower Anchors and Tether for Children). LATCH is specifically designed for car seats and makes it easier for parents to install them properly in their N Charlotte Toyota. So the lower anchors can be used to implement car seat safety by allowing you to attach the car seat as opposed to the seat belt, this makes it easier to maneuver. As for the tethers, they take safety to the next level. Fun fact, almost all car seats designed after 2002 are designed to be compatible with LATCH systems.
Which car seat should you use?
Car seat safety isn't only about having any random car seat. There are different sizes depending on their age, so check out this basic guide regarding the different age groups along with their compatible seats in order to practice car seat safety.
Infants and Toddlers
This age group should be using rear-facing car seats, at least until they're 2 years old or reach the height/weight requirements for the next type of car seat.
Toddlers/Pre-school
At this point, they should be using front-facing car seats with a harness or a convertible car seat. They should use these for as long as possible, until they outgrow them.
School-aged kids
Once your kid has outgrown the previous two seats, then it's time to invest in a belt-positioning booster seat for your N Charlotte Toyota. You child should stay in this seat until the car's regular seatbelt firs them properly.
Once your child is big enough to ride in the car without a car seat, you should still make sure that they're always wearing their seatbelts, and that they're wearing it properly. Always have both the lap and shoulder belts to get the maximum effect from them.
If you have any questions on how to properly install a car seat, you can visit your local police or fire station. They can help you you with the installation. If you're looking for the perfect vehicle to implement these car seat safety tips, stop by Toyota of N Charlotte today and check out our inventory! We're located at 13429 Statesville Rd just off I-77 at exit 23 in Huntersville.