Selecting a used car
isn't easy - but Toyota of N Charlotte is here to provide a helping hand! After a decade of experience, we've learned some tips and tricks to pass onto our customers. Shopping for used cars in Charlotte
can be a stressful experience, especially when you don't know what you're looking for. Check out five simple steps to get you into the used car of your dreams!
Five Steps to finding a used car in Charlotte!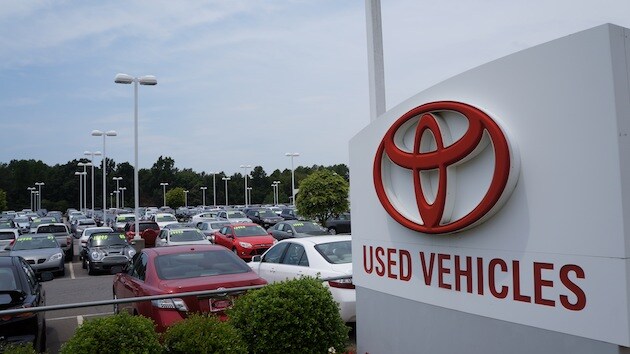 Step 1: Decide on your budget.
This is crucial to any car buying process. You can't walk into our N Charlotte Toyota dealership without a price in mind. If you do, then you're asking for trouble. When you start looking outside of your budget, problems happen.
Before you come in, sit down and calculate what you can afford monthly.

Estimate what you can put down on a used car in Charlotte.
Bring these estimates in with you, so our finance staff can help keep you in your budget! We don't want to stretch you too thin - we want you to be comfortable! With our help, purchasing a used car in Charlotte can be easy - especially if you look at our used car specials
!
Step 2: Research your needs.
Each driver needs something different. If you're a family of six, a minivan or a large SUV will be your most practical option. Cargo space will be your main requirement. Some people are looking for a high towing capacity. Here are a few suggestions of things to keep in mind when trying to find the perfect model:
Number of passengers and seating options

Fuel efficiency you want to achieve

Any off-roading capabilities you'll need
Once you've nailed down these details, your search will be tailored just a little more!
Toyota of N Charlotte helps you find what you need!

Step 3: Pick a model.

Now that you've figured out what you need, start looking at different types of used cars
in Charlotte. Now's a good time to also think about what types of additional features that you would like to have. Make a wish list of features.

While you're doing this you should also think more specifically about your model:
A sedan or sporty coupe

A minivan or large SUV

A midsize truck or compact SUV

A large truck with towing capabilities
If you want MP3 playback or fog lights, don't be afraid to add it to your list! The more specific you are, the higher chance you'll have at finding something within your needs and wants.
Step 4: Test drive.

This is when you come in and visit us! With our great selection of used cars in Charlotte, you'll be taking many test drives! Our sales specialists can find what you're looking for and take you for a spin. Keep in mind; this is where many drivers change their mind. Don't be afraid to be flexible!

Step 5: Conduct a walk-around test.

We suggest you take a look around your favorite pre-owned vehicle. Make sure you're in tune with everything about it. Check out things like:


Paint color and condition.

Check out the tires for any signs of extreme wear.

Look under the hood to check out the engine and radiator.
We want you to be as comfortable as possible with your purchase. We stand behind each used car in Charlotte we sell, and we want you to feel the same. If you're excited with your choice, our finance staff will take you through the finance process and you'll drive away happy!

You can always ask about our Toyota Certified Used Car
Program - these cars come with plenty of extras to keep you at ease. The only thing left to do is get shopping! Come for a visit and see what we have to offer! You'll find us right off of I-77 in Huntersville - see you soon!