How Much Does an Oil Change Cost?
Let's face it, everyone has to get an oil change at some point unless you drive an electric car. With so many places to choose from and so many different types of oil, can leave you puzzled about an oil change cost. Well, Toyota of N Charlotte is here to let you know how much you should expect to pay for this auto service, along with the different types of oil. Let's dig in!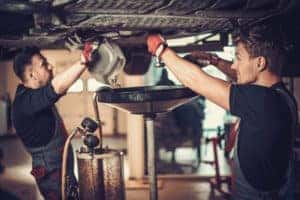 Oil Change Cost 101
So what is the Charlotte Toyota oil change cost you might ask? Well, it depends on how old your car is, what brand your car is, what type of oil you need, and if you need an oil filter replacement. With all of these different things you might need, it can set you back by $50-$200. Don't drive a Toyota? No problem! Our Charlotte Toyota auto service technicians can service your car, no matter what the brand is.
Wondering how often you should change your oil now that you know the Toyota oil change cost? We've got you covered!
Most auto manufacturers suggest changing your car oil every 5,000, 7,000, or 10,000 miles.
But, the oil change cost might change depending on your driving habits. If you're stuck in traffic or if you make frequent short trips, then you'll need this auto service less often.
The environmental conditions can affect your Toyota oil change cost as well.
And, our buy one, get one free coupon can help cut your oil change cost, too!
Also, the type of oil you choose to have put in your vehicle can affect the cost as well. Let's get into it!
Different Types of Oil
You should opt for conventional oil if you want to get your oil changed every 3,000-5,000 miles, and if you're on a budget!
Synthetic oil is best if you live in extreme climates, and you'll only need this changed every 7.500 miles.
Now, if you want the best type of oil, then opt for a synthetic blend oil. This oil will protect your car from cold temperatures, oxidation, and gives you better gas mileage. Also, you'll only need to have your oil changed every 5,000-7,500 miles.
If you have an older car, then you'll want to do more for your car by opting for this high-mileage oil. This oil has a special blend of additives and viscosity, which helps reduce your car oil to burn through. And, you'll only need an oil change every 7,500 miles.
Stop By Toyota of N Charlotte!
At Toyota of N Charlotte, we know that your car is important to you and keeping it in tip-top condition is a given. Let us help you today! Book an appointment at 13429 Statesville Road or give us a call at (704) 659-2025. We're located just off exit 23 off I-77 in Huntersville! We look forward to helping you today!