Car Care Resolutions
2019 is finally here and the sense of motivation is stronger than ever! Gyms are packed, the organic section of the grocery store is scarce, and you're possibly reading more books. New year's resolutions are the most trending things from December through March—but something that should last all year round is you caring for your car maintenance. Toyota of N. Charlotte is here to help you with some car care resolutions you could follow to make your car maintenance easier to keep up with.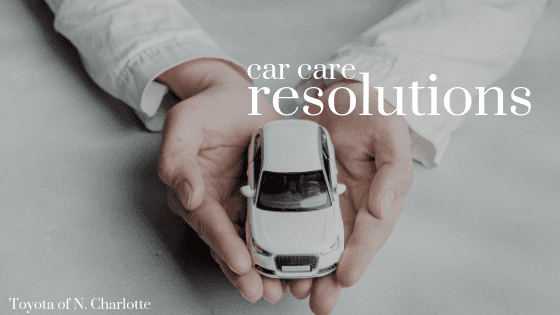 Car Care Resolutions from Toyota of N. Charlotte
Change oil every 5,000 miles: Your N. Charlotte Toyota's oil is what makes the engine run smoothly. If you don't keep with your car maintenance and change your oil, this could bring damage to your engine which eventually causes damage to the rest of the vehicle and its function.
Check the condition of your tires: Car maintenance can be tricky, especially trying to think of what else needs attention. The tires on your N. Charlotte Toyota are definitely something to remember. Your vehicle's tires are what make it run. So you'll want to avoid any situation that could possibly make them pop! Have one of our auto service techs check the tire pressure and condition. Make sure it's in the correct PSI level.
Stick to the service schedule: Just the way you're sticking to your healthy diet, stick to your N. Charlotte Toyota's service schedule. Try looking at the bigger picture here, if you're ever looking to trade in your vehicle and you lacked being on top of its car maintenance, this may impact the price you'll get for it. The value will lower and you'll beat yourself up for it because the only thing in between getting a better value for it was the lack of car maintenance.
Test the battery before and after winter: We all know that cold weather frequents in Charlotte. And because of that, you have to take extra care of your vehicle because cold weather does affect it. Checking your battery is part of it. Our Charlotte auto service techs recommend getting your battery checked (before and after winter)—especially if it's older than 5 years.
Keep it clean all year round: Another major car maintenance tip is to have it detailed every month or bimonthly if you're good at keeping it clean. Neglecting to clean your car on a regular basis can be harmful to the car's paint which could eventually cause it to rust.
Fix small problems before they get worse: No matter how small the problem, try getting it fixed because the longer you wait, the worse it gets. By doing this you'll be able to avoid a big hit to your wallet.
All your vehicle needs this during the New Year is a little TLC; and with these car care resolutions you'll be able to make sure that it's getting the proper car maintenance.  Need help taking care of your vehicle? Bring it in to Toyota of N. Charlotte so one of our auto service techs can check it out. We're located at 13429 Statesville Rd in Huntersville.