Car Detailing: How to Remove Different Stains
For most of us drivers our cars are an extension of home. The driver's seat is your comfort zone just like the couch in your living room. It's great to feel comfortable in the vehicle you spend a lot of time in, but when was the last time you checked on things like the carpet and upholstery? Like, really checked? Just like your coach, you've likely been too comfortable to check on the damage caused by the coffee you spilled last week or where that french fry went from last month. Your car's interior has likely become home to more than just you and it's time for a thorough cleaning. While it's easy to vacuum up crumbs and large debris, carpet stains are a whole different animal to deal with. To help you clean the stains in your car carpet for a better car detailing job, Toyota of North Charlotte is here to help you out!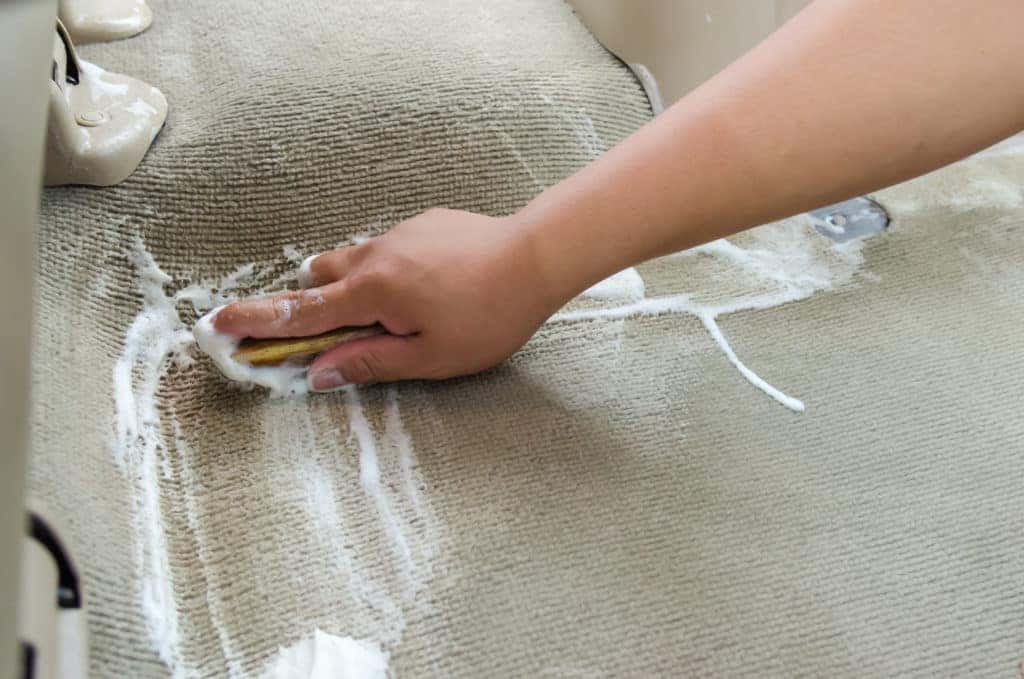 How to Remove Stains During Car Detailing
Depending on the substance that you've managed to stain your car carpet or seats with, you're going to need to approach it using different tools and stain removers to get the job done. Here are a few common stain causing substances you may find in your Charlotte ride while car detailing and how to deal with them:
Soda and Sugary Beverages
Pulling through the drive thru and enjoying a meal is great until your soda spills everywhere. To clean this particular N Charlotte car detailing stain you're going to need to do the following:
Start by soaking or sponging the stain with cold water.
Pretreat the stain with laundry detergent or a stain remover.
If it's safe for your particular upholstery, use oxygen bleach to further remove the stain.
Tape/Gum/Adhesives
Getting gum stuck on the bottom of your shoe is the worst. It's even worse when it winds up on your car's carpet. Here's the easiest way to get rid of this pesky substance during your car detailing job:
First, apply ice (preferred) or cold water to harden the adhesive. Once it hardens, scrape it away with a dull knife.
Spray the leftover spot with pre-wash stain remover and wipe until the residue has been removed.
Coffee/Tea
It's likely that many of the stains in your N Charlotte Toyota were caused by a morning caffeinated commute gone wrong. Here's how to remove the copious coffee stains from your vehicle's carpet while car detailing:
Soak the stain or apply cold water.
Pretreat with stain remover or laundry detergent and wipe.
If possible, apply laundry bleach to remove any residual staining.
Ink
Ink streaks or leaky crushed pens can have your vehicle interior looking like a handwritten essay. This is how you should remove this particular stain:
Sponge the area around the stain with rubbing alcohol or cleaning fluid.
Place paper towels on top of stain on top of stain and re-apply rubbing alcohol until stain is lifted.
Condiments
Enjoying a burger and fries after a trip through the drive thru can always lead to stained pants and Charlotte car seats. Follow these steps to remove condiments from your carpet while car detailing:
Do your best to remove excess ketchup, mustard, and mayonnaise without further spreading the stain.
Pretreat with laundry stain remover and then clean using the hottest water possible.
DO NOT dab the spots as this could further spread the stain.
Need more help removing stains from your vehicle's carpet? Toyota of North Charlotte is here help! Visit our auto service center today at 13429 Statesville Road.