Driving at Night Safety Tips
As the holiday season arrives at Toyota of N. Charlotte, driving at night becomes unavoidable. The days get shorter, while the nights get colder. Before you know it, the sun is setting by 5:30pm and you're still stuck in traffic in your N. Charlotte Toyota on your way home from work. The thought of dealing with driving at night gets a little eerie because the risk of getting into a car accident is more possible at night. Did you know that traffic death rates are three times greater at night as opposed to during the day? One of the major issues to this cause is the decrease in confidence when driving at night. Not to worry! Toyota of N. Charlotte has some tips for you to restore your confidence when you have to give in to driving at night.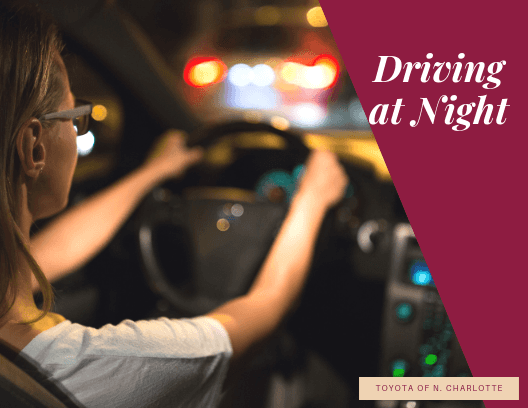 Make sure windshield and headlights are clean: the combination of old windshield wipers and dim lights are the recipe for glare. It's harder to see when you're driving at night with a glare, and it actually causes the driver to feel unsafe thus making it take longer to adjust after the glare hits.
Leave more distance between cars: You don't want to risk getting into a fender bender in N. Charlotte. Since it gets dark earlier, it's harder to react quickly and make safe decisions. A typical driver makes 20 decisions per mile, and half a second to react to avoid any collision. Therefore, with enough space in between N. Charlotte Toyota vehicles, you'll have a couple of more seconds to react to a situation.
Make sure your headlights are on and working clearly: Similar to tip number one, take another look at your headlights and make sure they're not dimmed down. Since your vision is already going to suffer from the lack of daytime, you need sufficient light to guide you through the streets when driving at night. Let our N. Charlotte auto service techs check them out for you!
Don't get distracted: You should never engage in distracted driving—especially at night. Keep in mind that your reaction rate decreases because of the impairment of your vision when driving at night. Therefore, if you have the need to change the mode in your N. Charlotte Toyota's Entune 3.0 infotainment system, need to make a phone call or need to do anything that takes away from your concentration while driving, have your passengers help you. If you're driving alone, set everything up before you head out or just make sure you're parked away from traffic to do what you need to do.
Driving at night doesn't have to be scary. As long as you take our advice and navigate carefully, you should be safe. With that being said, are you in need of getting your car prepped for the night? Bring your car in to Toyota of N. Charlotte so that one of our service techs can help you out! You can schedule service online with the ease of a click! We're located at 13429 Statesville Rd in Huntersville.