FAQs on Hydrogen Fueled Vehicles
As you may already know, the latest in Toyota news is that the N Charlotte Toyota Mirai is getting an all new look and to put it in just a few words, it looks pretty amazing. It's so stylish that it may be what Toyota needs to make the Mirai more mainstream, which will open doors for hydrogen fuel technology. As of right now, Toyota hydrogen fuel technology stations are only available in the west coast of the United States (primarily in Central California) and one station in Hawaii. Since this N Charlotte Toyota fueling tech is still so new, the infrastructure has yet to develop.
We're sure you already know that our N Charlotte Toyota vehicles use gasoline as a primary fuel source, which is why switching to an alternate fuel source like a battery or hydrogen fuel source will leave many customers wondering about their safety and validity of these fueling methods. If you're one of the N Charlotte Toyota customers that is skeptical about the hydrogen fuel source, there's no need to panic. Toyota of N Charlotte is here with a list of FAQs that will assist your understanding in this revolutionary fuel type.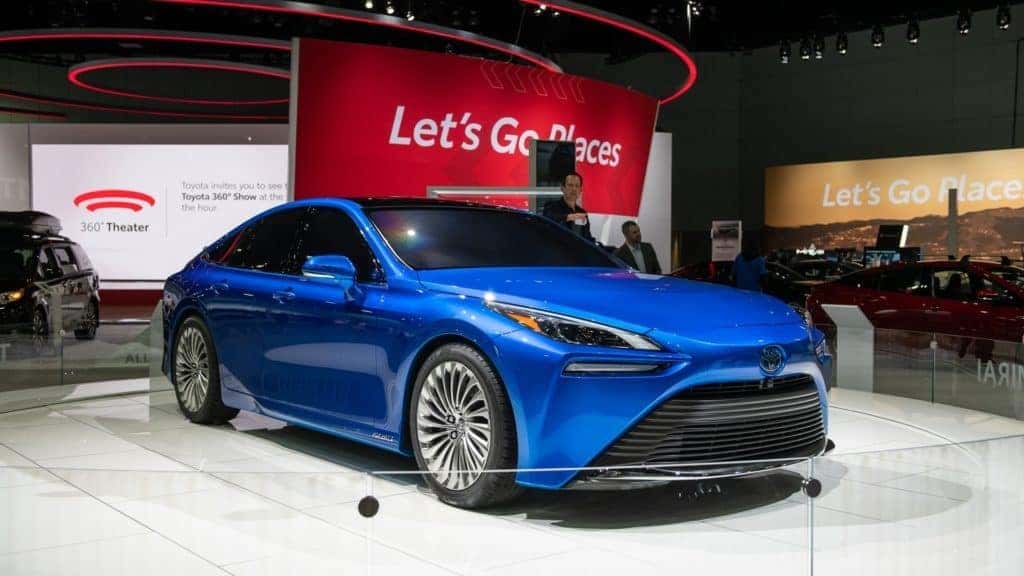 Frequently Asked N Charlotte Hydrogen Fuel Questions
What does a hydrogen fueling station look like?
Because of how new this fuel type is, it Maes sense to be curious as to how the fueling stations  look. Will it look like it belongs 50 years into the future? Will it automatically fuel your Toyota? The reality is that it wont do either of the aforementioned, but one can dream right? A hydrogen fuel station will look similar to that of a gasoline based one. The main terminal will resemble a gas station with the nozzle and payment screens. Nevertheless, the stations will be solitary with one or two additional terminals nearby. There will also be a cooling fan, a large compressor and fuel storage reservoir.
How do you fuel a hydrogen car?
It'll be the same process you use to fuel a N Charlotte Toyota gasoline car. Place the handle to the opening on your hydrogen car and pump the fuel until the sensor stops.
What are the byproducts of hydrogen fuel?
When used in cars like the Toyota Mirai, hydrogen fuel will only emit water as a byproduct.
Is hydrogen fuel expensive?
Due to the fact that it's still in its earlier stages and it's not widely available, hydrogen fuel is slightly more expensive than gasoline. But as hydrogen becomes more widely available, the cost will most likely mirror the price of gas—maybe even less.
What happens when you have a fuel leak in a hydrogen car?
Many people are nervous about what could happen when a hydrogen fuel tank experiences a leak. Nevertheless, tank leaks are imbued with a couple of fail safe measures that make them even safer in the event of an emergency situation. While gasoline is more likely to catch on fire, hydrogen fuel leaks will not likely catch on fire because the gas will quickly dissipate out of the leak site.
Now that we've answered the FAQs on hydrogen fuel, we hope we were able to answer one of your questions. If you have any further questions and want help shopping vehicles with alternative fuel sources, stop by Toyota of N Charlotte today! We're located at 13429 Statesville  Rd just off I-77 at exit 23 in Huntersville.