How to Navigate Around Blind Spots
When you hear the word "blind spot," driving on the highway might come to mind. But, at Toyota of N Charlotte, we know that it can be confusing to know how to navigate around them and check for them. And, we're here to tell you exactly what a blind spot is!
A blind spot is an area that is out of the driver's field of vision. Also, you're not able to see them by utilizing your mirrors, and they're hidden by part of your car's structure. They can easily block a car, motorcycle, or a pedestrian from your line of vision. But, that doesn't mean that there's not a way to spot these drivers and other Charlotte Toyota road hazards. You'll just have to turn your head and look over your shoulders to drive safely on the road.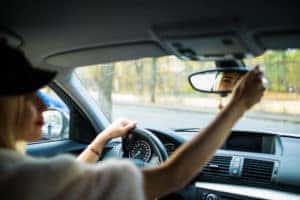 Different Ways to Adjust Your Blind Spots
Adjust Your Mirrors.
The first thing you'll want to do is adjust your rearview mirror, left mirror, and right mirror so you can provide yourself with the most visibility on the road. You'll want to be sure that you position the Charlotte Toyota mirrors so nothing overlaps your vision field. By keeping these mirrors well-adjusted, you'll be able to minimize your Charlotte Toyota blind spots.
Use Turn Signals. 
Another great way to drive with blind spots is to use your turn signals. Since you generally have two Charlotte Toyota blind spots, then using your turn signals will reduce the probability of getting into an accident. However, it doesn't remove the risk entirely because there will still be spots you can't see. So, just be vigilant when driving and using your turn signals.
Look Over Your Shoulder. 
Another great Charlotte Toyota driving tip is to look over your shoulder to see if you're able to change lanes and won't hit a car that you can't see. However, this can be a little tricky because you have to take your eyes off the road for a little bit. Be sure that there's enough space between you and the car in front of you before you change lanes. Also, be sure that you keep your car in a straight line and don't swerve in the lane.
Be Mindful of Other Drivers. 
Another great safety tip is to be mindful of the other driver's spots they can't see on the road. By practicing defensive driving, you'll be able to predict what the other drivers on the road will do next to you. If you can, try not to drive in the spots that they can't see around them. This will help you stay safe on the road and avoid any unwanted car accidents.
Stop by Toyota of N Charlotte 
If you need more car care tips to drive safe with blind spots, then stop by Toyota of N Charlotte. Just book an appointment at (704) 659-2025. We're open seven days a week at 13429 Statesville Road! Just take exit 23 off I-77 in Huntersville. We look forward to helping you!