New 2022 Toyota Tacoma Trail Edition 4×4 coming soon
Get ready to blaze into 2022 with a brand new Toyota Tacoma Trail Edition 4×4. This breathtaking truck is coming equipped with stacked features that everyone will love! Hold your horses, ya'll! You'll want to race as fast as you can to Toyota of N Charlotte as soon as this hits the market!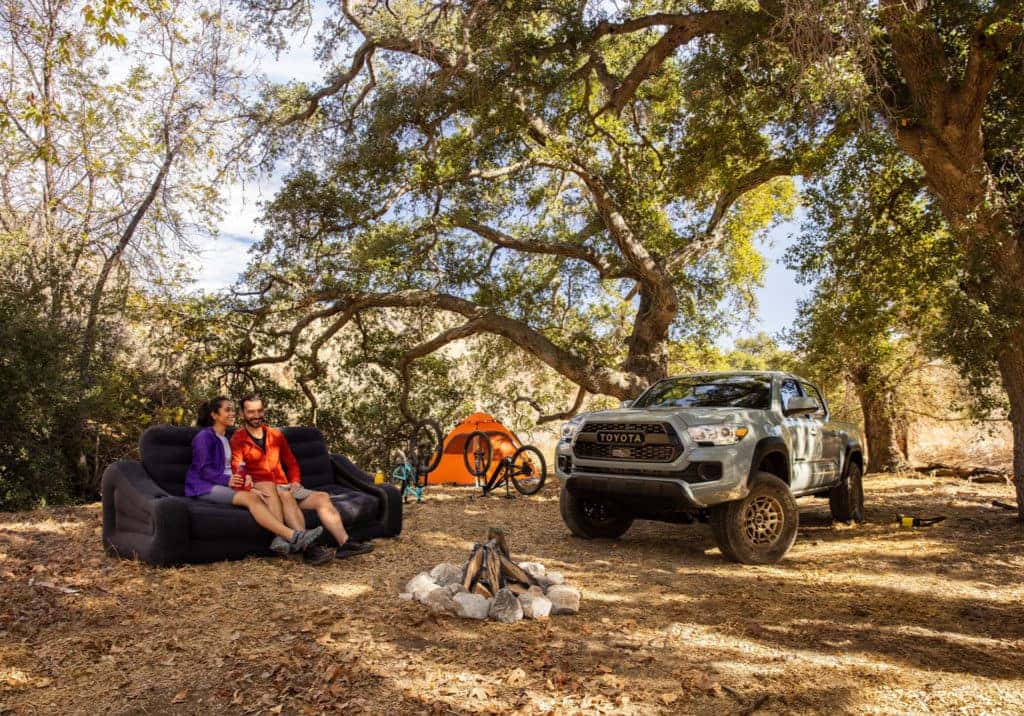 A new Toyota Tacoma means new features! Yay!
You'll be able to select Lunar Rock as a new and exciting color in 2022.
A Heritage-inspired grilled will be added, and it will have one-of-a-kind bronze-finished lettering.
Bronze just keeps coming, doesn't it? You'll be able to rock 16-inch wheels with Goodyear tires armed with sidewall tread, too!
There will be extra bed storage and the driver's side will even act as a cooler! Keep those beverages cool for those long nights!
The Trail Edition 4×4 will have a suspension lift of 1.1-inches in the front and 0.5-inches in the back!
Tackle the Roughest Terrain

If you're on the market for a Toyota Tacoma that means you're the type of person who loves the outdoors and going muddin' with your BFF! Well, this N Charlotte Toyota truck will be your best friend when it comes to the rugged outdoors. The extra lift that this truck gives you is super amazing! By making the suspension lift higher, the approach angle of the Toyota truck is 34 degrees, and the rear is 23.6 degrees. Also, the breaker angle has been upgraded to 26.4 degrees. But that's not all, folks!
The Trail Edition will come equipped with a standard locking rear differential, which offers more traction when using the four-wheel drive.
And, what would be a N Charlotte Toyota truck that's meant for the outdoors without a new skid plate? That's right, ya'll! We're using the skid plate from the TRD off-road grade for that extra layer of protection.
What would be a new Toyota Tacoma without some beautiful colors? In addition to Lunar Rock, you'll be able to choose from Army Green, Midnight Black Metallic, and Super White.
The Toyota Tacoma will sport black exterior accents with a Trail Edition badge on the rear tailgate.
For all of your campers out there, get excited for the 120V power outlet that will come with this N Charlotte Toyota truck!
Did we mention speed, yet? This Toyota Tacoma will be supplied with 278 horsepower and 265 pound-feet of torque.
Also, the tow package comes standard on V6 models! You'll be able to tow 6,400 pounds of an RV or boat.
The year 2022 is really bringing in the upgrades with all of the new Toyota's! You'll be driving in comfort with the 10-way adjustable driver's seat with a two-way power lumbar support, dual-zone automatic climate control, and the weather floor liners that preserve the interior of the N Charlotte truck.
Come on down to Toyota of N Charlotte, ya'll!
We look forward to seeing you at Toyota of N Charlotte today! Just call (704) 875-9199 to book an appointment to see the Toyota Tacoma!