Planning Your Car Camping Trip
Now that school is about to be out, it's time to start planning your summer trips with your kids! And, at Toyota of N Charlotte, we understand not everyone has access to an RV or a tent that can attach to your truck. That's when car camping comes in handy! And, of course, Toyota of N Charlotte has all of the tips and tricks for car camping. Let's dive in!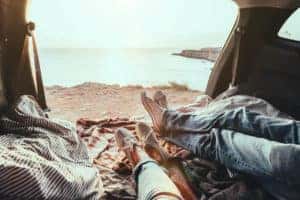 Car Camping 101 
Tip #1 Be Strategic About Where You Park
While looking for a spot to park your car, you might be left wondering where it's legal to park besides your typical campground site. But, now it's easier than ever with apps like AllStays and Hipcamp. You won't have to worry about getting towed or having a ticket with these apps. Also, U.S. Forest Service roads are generally a good place to pitch a tent or go car camping.
Tip #2 Sleep with Your Head in the Front of Your Car
Another tip Toyota of N Charlotte has for you for car camping is to sleep with your head toward the front of your car. Flat surfaces are also preferred when sleeping, but if you can't manage to sleep this way, then position your car so your head is above your feet. This will allow more elbow room as well, which means more room for turning.
Tip #3 Keep Your Food in the Car
Another Charlotte Toyota car camping tip is to keep your food in your car, preferably in a cooler. If you're out hiking or swimming all day, then you're going to work up an appetite. Keeping all of your food secured in your car will help keep it cooler and more fresh if you store it in a cooler. A pro-tip is to pre-chill your cooler with ice or ice blocks to keep it nice and frosty inside.
Tip #4 Pack the 10 Essentials 
When you go Charlotte Toyota car camping you should bring the following essentials:
Navigation Tool
Headlamp
Sun Protection
First Aid Kit
Knife
Fire
Shelter
Extra Food
Extra Water
Extra Clothes
Tip #5 Keep your Electronics Charged
When you go car camping, it's best to come with all of your electronics fully charged. However, if you happen to forget, the Toyota Highlander and other Toyota cars have a plug in the trunk or the back of the car. So, if all else fails you can always juice up again this way.
Tip #6 Comfy Bed. 
Toyota of N Charlotte also recommends investing in a comfy bed so that you get plenty of sleep while resting up from all of that hiking. Camping in your car is easier because you can splurge on heavier blankets and pillows to get all cozy.
Stop by Toyota of N Charlotte 
Stop by Toyota of N Charlotte and just book an appointment at (704) 875-9199. We're open seven days a week at 13429 Statesville Road! Just take exit 23 off I-77 in Huntersville. We look forward to helping you today!