Revamp your Used Car
Has your car become run down throughout the years? We get it, upgrading your used Charlotte Toyota can be expensive, but if it's still in pretty good condition when it comes down to its mechanical function, then sprucing up different parts of your used car can definitely make it look new at a more affordable cost. Toyota of N. Charlotte is here to help on these budget-friendly DIY tips on how to make your used car look new again.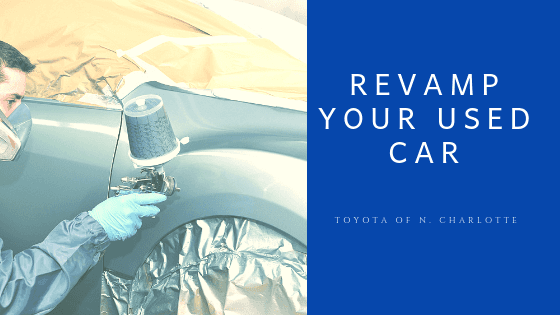 Restore your headlights: After years of driving your used car, the plastic on your car headlights can wear out and cause your lights to dim. The haziness and scratches can make your car appear to be more dated than it really is. Revamp your lights by replacing the plastic, or by cleaning them with toothpaste to clear them up. If you feel you aren't suited to do this, our Charlotte auto service techs can help make your headlights shine bright like a diamond again!
Get new tires: Based on the amount of wear and tear given on your tires, there may be a chance you'll need new tires anyway. Our Charlotte auto service techs will be glad to let you know if you're due for new tires. Getting new tires for your used car will not only give your car a fresher look, but it will also improve its performance. You can't say no to a used car with better performance!
Look into updating your technology: Do you remember the last time you upgraded your audio system? Modern tech makes listening to music and handling phone calls much easier than it was 10 years ago. And although it may be a little pricey when you think of it as just purchasing a new system, but just think about the longevity of your investment. Your used Charlotte Toyota will be making a comeback and you won't regret your choice.
Invest in seat and steering wheel covers: These covers will make your used car look less used. It'll allow you to hide any fading or stains that your used Charlotte vehicle has accumulated throughout the years. It's relatively inexpensive so you don't have to worry about breaking the bank.
Get a paint touch up: Scratches and scars can take away from the appearance of your used car. Revamp your used car by taking it to Toyota of N. Charlotte's body shop so you could get a paint touch up. It'll take years away from its appearance. You could even arrange to get your car repainted in an entirely new color!
Need help in revamping your car to make it look brand new again? Bring it in to Toyota of N. Charlotte and our service techs could help you decide what needs some tweaking and what needs to be replaced. Call Toyota of N. Charlotte today at (704)659-2025. We'll make the best out of your used vehicle at an affordable price! We're located at 13429 Statesville Road in Huntersville.