The 2022 Toyota RAV4 vs. 2022 Kia Sportage
So, you're on the market for a new SUV. With so many options available, it can leave you scratching your head at the endless possibilities. Well, Toyota of N Charlotte is here to break it down for you and make your decision a little easier when you're ready to purchase your new car. Today, we'll be comparing the N Charlotte 2022 Toyota RAV4 and the 2022 Kia Sportage.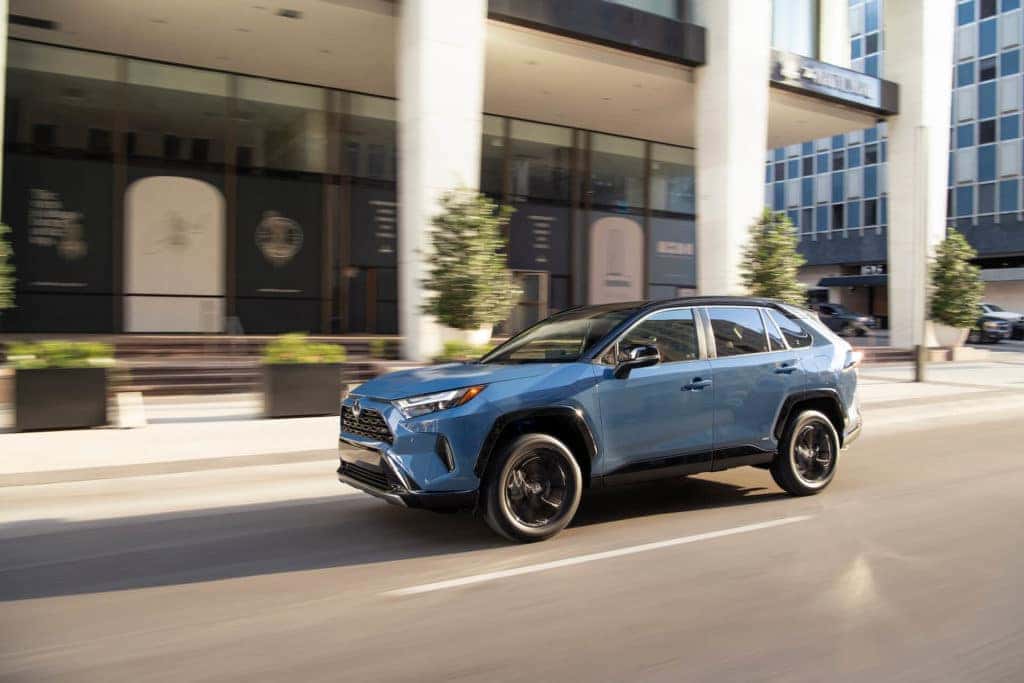 How does the 2022 Toyota RAV4 compare to the Kia Sportage? 
Performance: One of the biggest advantages of the N Charlotte 2022 Toyota RAV4 is that it's versatile and has amazing performance. But, here's how it compares to its competitor:
The 2022 Toyota RAV4 has a 2.5L 4-cylinder engine and has 22 more horsepower than the 2022 Kia Sportage.
The N Charlotte Toyota SUV is faster in the 0-30,0-60, and the 45-65 quarter-mile tests.
This N Charlotte Toyota SUV offers better fuel efficiency. It gets 27-35 mpg compared to Kia's 23/30 mpg in the FWD model, and 27/34 mpg vs. the Sportage's 22/26 in the AWD model.
Toyota's cars also offer an automatic engine start-stop system to reduce emissions and improve fuel efficiency.
The 2022 Toyota RAV4 offers an 8-speed automatic transmission, while the competitor only offers 6- speed.
And, the 2022 Toyota RAV4 can tow up to 3,500 lbs. and the Kia Sportage caps out at 2,000 lbs.
Comfort: When it comes to comfort, Toyota takes the cake on this, too.
The 2022 Toyota RAV4 offers memory seats (not available on the Kia), a power parking brake with one-touch release and automatic release, while the Kia only mainly offers manual.
The N Charlotte Toyota SUV offers more front headroom, front shoulder room, rear headroom, and rear shoulder room than its competitor.
Also, it has larger cargo space in the rear – 37.6 cubic feet vs. the Sportage's 30.7 cubic feet.
Safety: We know safety is a top priority, so let's dive in!
The 2022 Toyota RAV4 offers pretensions on front and rear shoulder belts and has a standard driver's side knee airbag.
Also, it boasts a secondary collision brake to prevent collisions.
There's optional parking assist with automatic braking.
You'll love the optional bird's eye view camera and the standard safety connect services with GPS tracking.
Value:  And, Toyota wins for the most value as well!
This N Charlotte Toyota offers a better resale value than the Kia Sportage.
The Toyota SUV offers a 5-year corrosion warranty with no mileage limitation, while the competition caps out at 100,000 miles.
Consumer reports found that Toyota is more reliable than Kia, ranking second, while Kia ranked 15th.
Also, it offers no-cost scheduled car maintenance for the first 2 years or 25,000 miles, which isn't available for Kia drivers.
Visit Toyota of N Charlotte Today! 
Stop by our dealership today at 13429 Statesville Road and test drive one of our award-winning SUV's.