The 411 on a Fuel Injector
You might be asking yourself what even is a fuel injector? At Toyota of N Charlotte, we know the ins and outs of your car maintenance can seem confusing. After all, with an endless list of different services you need to get, it can get muddy. But, we're here to tell you how a fuel injector works, what it is, and why you need this service. Also, we'll fill you in on a realistic price point if you need to have this auto part replaced if it's too far gone. Let's dive in!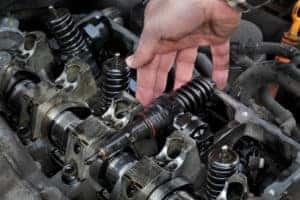 What is a Fuel Injector? 
This handy dandy device keeps your engine running smoothly and efficiently. If it's clogged, then this can lead to having less gas mileage and loss of power in your car. And, with today's gas prices, who wants that? Also, residue and impurities can cause the injector to get clogged, which will result in it not performing at its best.
Luckily, this Charlotte Toyota auto service only needs to be done every 45,000 miles or every three years.
But, if you have a vehicle that was built before 2004, then you'll need this service more often.
In today's modern world, the gas we put in our cars has additives in it that help the fuel injector stay clean, which ultimately means less car maintenance!
If you notice decreased fuel economy, hard starts, pre-ignition pinging, poor engine performance, rough idling, and throttle hesitation, then it's time to get it flushed!
Also, during your regular car maintenance check-up at Toyota of N Charlotte, we can spot if you're going to have an expensive problem on your hands soon.
How Do You Determine if You Need a New One? 
So, what happens if your Charlotte Toyota fuel injector goes kaput and isn't working anymore? Well, typically the fuel injector is meant to last the lifetime of the car, but if you haven't kept up with your fuel injector flushes and other car maintenance, then it might not last the lifetime of the car. If this is the case, then you might need it replaced after only 50,000 to 100,000 miles.
If you do need to get your Charlotte Toyota fuel injector replaced, then it'll set you back by about $400. Of course, it might vary depending on where you live and what type of car you drive.
And, our Charlotte Toyota auto service technicians have genuine Toyota parts and can fix your car to the highest level of integrity.
Stop by Toyota of N Charlotte! 
If you're noticing poor gas mileage or other things wrong with your car, then stop by Toyota of N Charlotte! We have the best auto service technicians to get your car in working order again. Just book an appointment at (704) 659-2025. We're open seven days a week at 13429 Statesville Road! Just take exit 23 off I-77 in Huntersville. We look forward to helping you today!