The 411 on Electric Car Maintenance
With new electric cars coming out often, it might leave you wondering if you should buy one of these cars for yourself! One perk about these cars that may have slipped your mind is Charlotte Toyota electric car maintenance. These cars don't require you to have routine oil changes, spark plug replacements, and oil or gas filter changes. And, since they don't rely on multi-speed transmission, there's not an exhaust system, muffler, catalytic converter, fuel injector, or fuel pump. But, how exactly does Charlotte Toyota electric car maintenance work? Let's dive in!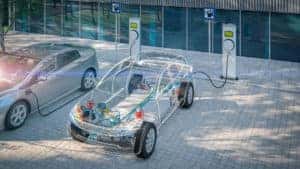 How Electric Car Maintenance Works
You'll save so much money on Charlotte Toyota electric car maintenance without having to get routine gas car maintenance. But, you do still need to have your car serviced every now and then. You'll still need to have your Charlotte Toyota air filter replaced, along with replacing windshield wiper blades and topping off your washer fluid. Below is the schedule you should follow for your Charlotte Toyota electric car maintenance routine.
Every 30 Days.
Check your tire pressure.

Inspect your tires for excess wear and tear.

See if your windshield washer fluid needs to be topped off.
Every 7,500 Miles.
Have your tires rotated.

Check the coolant level for the battery (super important).

Inspect the car brakes, steering, suspension, and chassis components for everyday wear and tear.

Double-check the cabin heater, power inverter, accessory power, and charger modules.

Check the power steering, driveshafts, and light bulbs around the car.

Go ahead and lubricate the locks on your doors and inspect the gas struts for suspension wear.
At 15,000 Miles. 
Now is the time when you can change your Charlotte Toyota windshield wiper blades.
At 36,000 Miles. 
Just like a gas car, you have to replace the cabin air filter. Now is the time to go ahead and do that.
At 75,000 Miles. 
Replace your suspension gas struts.

Have our auto service technicians drain and service the coolant circuits.
Battery of the Electric Car.
The battery in your electric car is the heart and soul of how this bad boy gets you from point A to point B. Typically, there will be a warranty for the battery, which is generally for eight years or after 100,000 miles (whichever comes first). After many years, the battery will lose some of its range, but will still offer great performance. However, if you want to keep your electric car long-term, then you'll have to pay over $5,000 to replace the battery. If you don't want to do this, then you can stop by Toyota of N Charlotte and trade your car in for a brand new one! Who doesn't love that new car smell anyways?
Stop by Toyota of N Charlotte
If you want more information about your Charlotte Toyota electric car maintenance, then stop by our dealership today! Just book an appointment at (704) 659-2025. We're open seven days a week at 13429 Statesville Road! Just take exit 23 off I-77 in Huntersville.