The juicy details about the 2022 Toyota Tundra 
The redesigned, new 2022 Toyota of N Charlotte Tundra is ready to spill all the juicy details about this powerhouse of a truck. We know you're filled with anticipation about all of the specs of this Toyota truck. Some key features that the 2022 Toyota Tundra will have are the following. Also, keep in mind that this N Charlotte Toyota truck will be available later this year!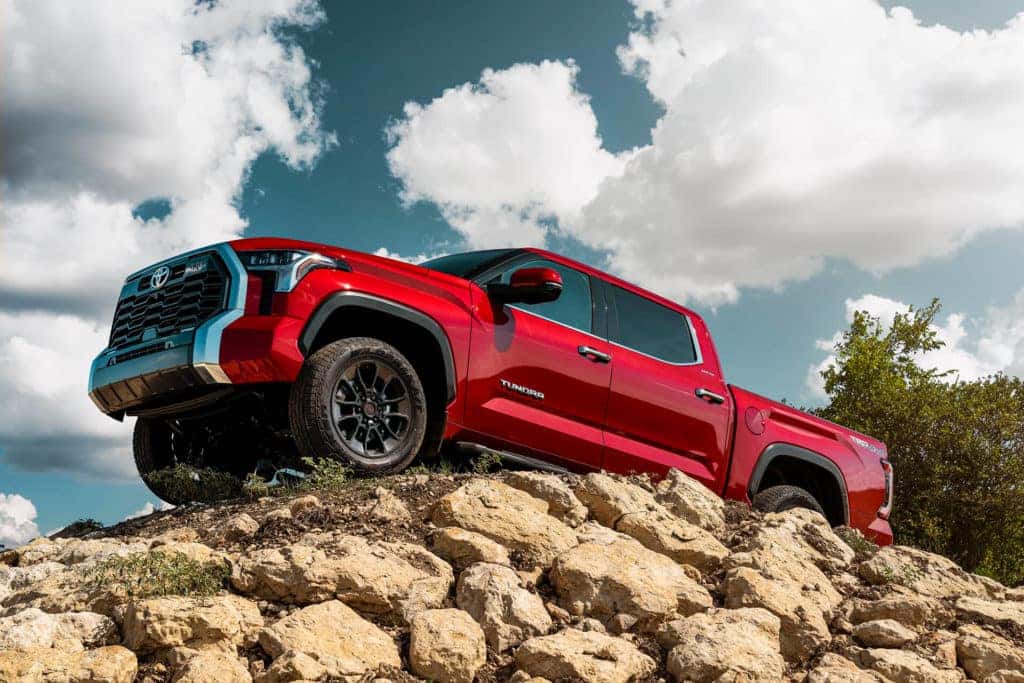 The standard i-Force 3.5L twin-turbo V6 engine can reach 389 horsepower.

The i-FORCE MAX powertrain produces up to 437 horsepower. 

This Toyota truck can tow up to 12,000 pounds. 

There's a 14-inch touchscreen multimedia system, and a 12.3-inch instrumentation panel display is available, too! 

Look forward to the Toyota Safety Sense 2.5 active safety standard on all grades. 
The interior of the 2022 N Charlotte Toyota Tundra is going to be super comfortable! Get ready for an optional panoramic roof, heated and ventilated front seats, rear sunshade, and even a heated steering wheel for those chilly mornings! There are two different four-door layouts available! Plus, you can choose from a 5.5-foot, 6.5-foot, and 8.1-foot bed! 
All new 2022 Toyota Tundra suspension 
The suspension for the 2022 N Charlotte Toyota Tundra has been reengineered. There will now be a multi-link rear suspension instead of the coil springs. This new redesign allowed shock absorbers to be placed on the outside frame rails to enhance roll damping and towing. There's also a double wishbone suspension for the 2022 Toyota Tundra. This front suspension will enhance straight-line stability and high-speed driving. Toyota has reduced the roll steer by 25% to make those sharp right turns easier. And, that's not all, fam!
This 2022 Toyota Tundra will boast twin-tube shots at the front and rear of the truck. These show absorbers have triple-oil seals and extended dust covers so your ride stays protected.

To enhance off-roading, the TRD Pro grades have 2.5-inch diameter FOX internal bypass shocks, and these create a 1.1-inch front lift. 

The multi-link rear suspension allows there to be a high, low, and normal height. The high setting is designed for low speeds and will automatically return to normal height if you exceed 18 mph. The low height is for unloading your truck (just to make life a little easier on your back). 

The adaptive variable suspension (AVS) is available on the 2022 N Charlotte Toyota Tundra. This allows you to adjust damping force based on different road conditions. 

There will finally be a hybrid powertrain, which will be the most powerful of the two offered on this N Charlotte Toyota truck. 

There's also a new power control unit, which creates great battery durability and thermal performance. The 288V nickel-metal hydride battery will seat under the rear passenger seats. 
Ready to shop at Toyota of N Charlotte? 
To stay up-to-date on when the 2022 N Charlotte Toyota Tundra will be at our dealership, then follow us on our social! We're open seven days a week at (704) 875-9199!