The lowdown on the 2022 Toyota Tundra 
The release of the 2022 Toyota Tundra is inching closer and closer each day! Seeing only a couple of images and sneak peeks of the 2022 Toyota Tundra has everyone going wild with anticipation. It'll be here this fall and the secrecy surrounding this Toyota truck will finally be revealed in full detail. At Toyota of N Charlotte, we know you want all the details possible and that's why we're here to break it down for you.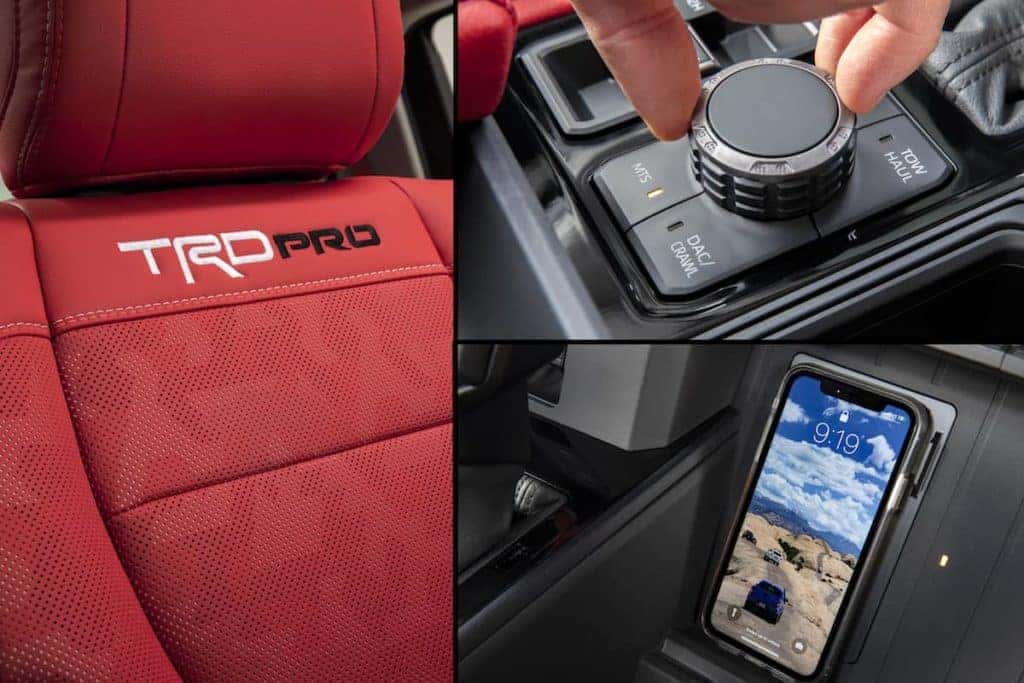 2022 Toyota Tundra secrets revealed 
A trio of photos was released this week that shows off more of the interior of the 2022 Toyota of N Charlotte Tundra. These photos reveal that the power rear window will be here to stay. Another exciting fact is that there will be a sleek, red fabric with perforated leather for the TRD Pro trim. It doesn't stop there! There'll also be a wireless phone charger right by the gear shifter. Say goodbye to those pesky wires and chargers that keep breaking!
Another exciting tidbit is the detailed knob and the buttons around it. This button features the Downhill Assist Control, Crawl Control, Multi-Terrain Select, Tow/Haul, and your basic drive modes as well. This 2022 Toyota Tundra will be able to tackle any terrain it comes across.
There have also been a bunch of teaser images that have revealed the following. Toyota of N Charlotte is here to dive into them.
We're thinking there will be a hybrid version available to our Toyota fam. This will be more eco-friendly and have better fuel efficiency.
One more shocker is that the V8 engine is a thing of the past! The new 2022 Toyota of N Charlotte Tundra boasts a V6 iForce Max engine (most likely). Just imagine tackling the great outdoors in this V6 engine, while saving that precious gas money!
We suspect that there will be a body-on-frame construction with high-strength steel. What does this mean for you? This means that the 2022 Toyota Tundra will weigh less than before! We also suspect that this will be on the new TGNA platform and will have a 10-speed automatic transmission!
What would the new Toyota truck be without the latest and greatest technology? Ya'll better get excited for the massive touchscreen interface for all of your audio and entertainment needs. At Toyota of N Charlotte, we also think that the best safety technology will be on this bad boy.
Last, but not least, the exterior of the 2022 Toyota Tundra is completely redesigned! You'll want to be behind the wheel of this gnarly truck ASAP!
Toyota of N Charlotte will keep you posted!
Toyota of N Charlotte isn't sure when we'll have the new truck here, but we'll be sure to keep you informed via our blog! Follow us on our social media for any updates! If you have any more questions, then come see us at 13429 Statesville Road! We look forward to helping you!