The Nomadic Life of Andy Cochrane
Nomadic lifestyles have become popular throughout the years because it is said that it helps individuals see life clearly. In many cases, they underwent a life changing experience and feel that they need a break from societal norms. This was the case for Andy Cochrane; after having his apartment sold, totaling his old car, and having to move back in with his parents, he decided to buy a 2015 Toyota Tacoma and live in it. Do you think you would ever be able to live in a Toyota Tacoma? Or even just depend on the streets of N. Charlotte to be your safe place? Well, Andy Cochrane was able to have many addresses after making his car his new home. Toyota of N. Charlotte has the inside scoop on what he used to create his portable home sweet home.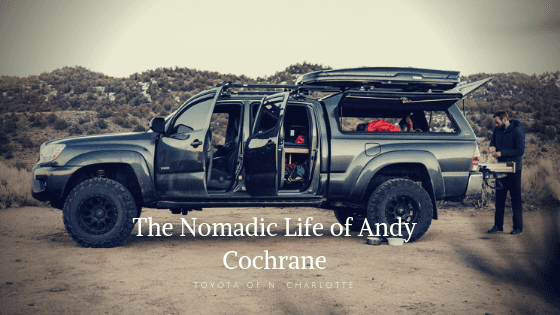 Why a Toyota Tacoma?
Many N. Charlotte Toyota customers may wonder, why a Toyota Tacoma? Cochrane could've gotten an RV or a Van, but what in particular stood out for him in this N. Charlotte truck is that he wanted to be able to go on spontaneous off-roading adventures.
Turn your N. Charlotte Toyota Tacoma into your new home!
The alterations made to make this Toyota Tacoma are as follows:
A 3" lift
A new Leer 180 truck bed cap to roof over head
All-terrain tires
Custom built drawers that run the length of the bed; used to store books, kitchen items, and more
4 cubbies; new roof racks
Special LED lights inside the bed
Fiberglass windows that open and close for air circulation
Foam mattress for bedding
With all the additional stuff Cochrane added to his Toyota Tacoma, he had to make sacrifices to make room for it. This included removing the seats from the back of his cab. So, features you could add to your N. Charlotte Toyota are:
Additional storage cubby for clothing, shoes, and space for his dog's belongings
Water jugs for extra water storage
A small refrigerator powered by a battery that is hooked up to three solar panels—which are located on the roof of the truck
A Propane tank to operate his portable cooking stove
With this in mind, Cochrane is living proof that anyone is able to make a N. Charlotte Toyota Tacoma their home. Not only is he able to live in a limited space, he was able to turn an unfortunate situation into something positive.
Are you seeking the same adventure Andy Cochrane is? With the abovementioned tips, you'll be able to turn your N. Charlotte Toyota Tacoma into your own portable home. Check out our selection of Tacomas, Tundras, and/or SUV's. Toyota of N. Charlotte is here to make sure you'll get the best car for your fit with the best deals we offer! We're located at 13429 Statesville Rd just off I-77 in Huntersville. Take advantage of the Year End Closeout, you don't want to miss out on our best deals of the year!