The Tokyo Motor Show is Happening Soon!
Who doesn't love new stuff? When it comes to the automotive industry, if there's one thing you can count on, it's that there's always something new coming down the pike. New designs, new technology, and new experiences make their way to Toyota of North Charlotte nearly every model year and we're always excited to see what's next. Perhaps the best way to get a close look at all things new in the automotive industry is by looking at what comes out of motor shows. Geneva, Paris, Chicago, Los Angeles, and Tokyo host some of the most important motor shows in the world and the Tokyo Motor Show is happening very soon! Many major announcements like the arrival of the 2020 Toyota GR Supra, the reveal of concepts like the Toyota TJ Cruiser and FT-4X, and the showcasing of new tech like self-driving autonomous North Charlotte Toyota vehicles have all been revealed at motor shows like this one.
The Tokyo Motor Show will be taking place from October 24th to November 4th and Toyota of North Charlotte is your top source for all the news coming out of the show. Before it arrives, we've got our best guesses on what you can expect to see and a little back story of the event.
What is the Tokyo Motor Show?
Globally, auto manufacturers host several motor and trade shows throughout the year to showcase new technology, vehicles, and designs to the public. The Tokyo Motor Show has been a biennial event since 1954 and has hosted prominent Japanese car makes like Toyota, Honda, and Subaru along with other national makes. In recent years, due to energy crises and environmental consciousness, the motor show has been themed after renewable fuel, environmentally-friendly technology, and autonomous vehicle research. During the last Tokyo Motor Show, Toyota showcased vehicles like the new Toyota GR Supra, the TJ Cruiser concept, and the FT-4X concept.
What Will be Showcased This Year?
While the Tokyo Motor Show isn't too far away, it's difficult to say exactly which N Charlotte Toyota vehicles will be showcased. However, due to auto industry experts and other news we've seen, we have some good guesses on what you might see come out of this show. These are our best guesses for what you may see come out of the Tokyo Motor Show: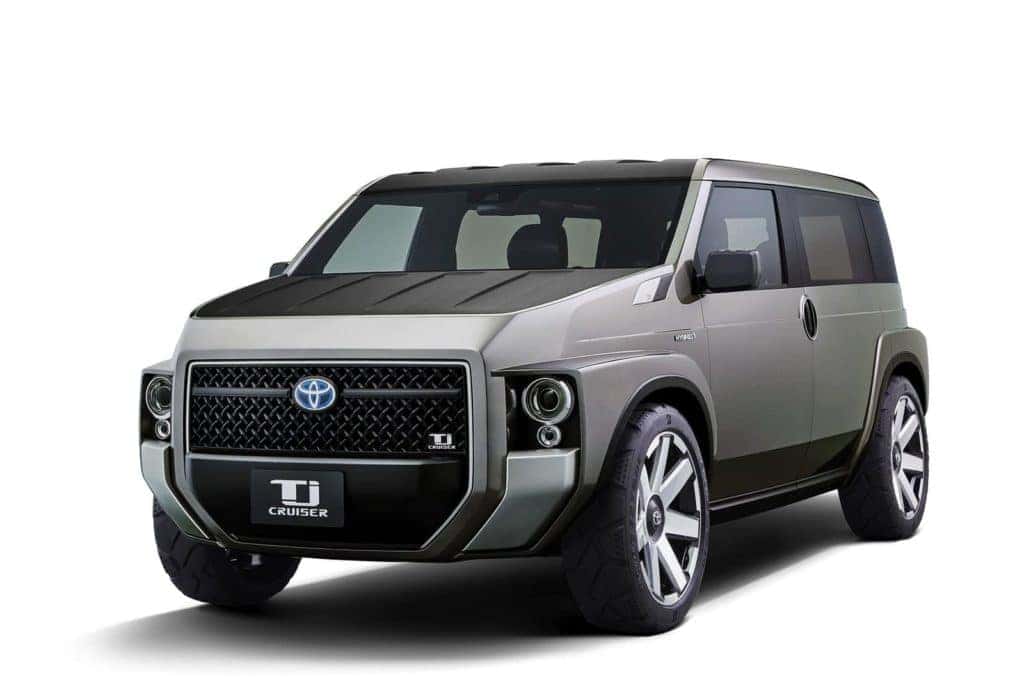 Additional info on the rumored Toyota TJ Cruiser
Revealed as a concept at a previous motor show, the North Charlotte Toyota TJ Cruiser has been a vehicle to watch out for. Rumors are that the vehicle has recently entered into the production phase and might make its way to North America. It's unknown if this claim is true, but we're guessing we may see some additional info about this upcoming vehicle and possibly something regarding the FT-4X concept as well.
A first look at the GRMN Toyota Supra
The 2020 Toyota GR Supra has finally made it to Toyota of North Charlotte, but there's more to this revived sportscar. The chief engineer behind the Supra revealed that new sub-models will be coming soon, including the rumored GRMN model. This Supra sub-model will feature an extra helping of horsepower, better performance grade suspension, and a lighter built vehicle body. The Tokyo Motor Show would be the perfect time to reveal this rumored model.
A new Toyota 86/Subaru BRZ
Toyota has made it pretty clear that they want to keep their performance line a trio (with the 86 and the Supra being the first two members). While we don't know the third vehicle as of yet (maybe an MR2 revival?), the Toyota 86 will be getting some improvements to keep up with its speedy sister car. This new rendition of the 86 is rumored to be built on a new platform, include new engineering features, and will still be a collaborative effort with Subaru.
The Tokyo Motor Show is coming soon and Toyota of North Charlotte will be here with the latest news from the show. Reach out to us at (704) 875 – 9199 with any questions!