Toyota Creates a New App Feature To Help You Install a Child Car Seat
Installing a child car seat can be pretty nerve wracking, especially for first time parents. You want to make sure that you install it the correct way for that in the event of an accident, it'll do what it's meant to do, protect your precious cargo. Just like anything else, practice makes perfect, and at Toyota of N Charlotte, we're here to help guide you the best way to learn quickly and efficiently.
If you have trouble installing a child car seat into your N Charlotte Toyota, you can always go to your local fire station or police department and they can show you how to properly install one and make sure that you're doing it correctly. As you may already know, Toyota is big on families, to the point that it was the vehicle make for the characters of Modern Family (2009).
Toyota for Families
We want you to know the Toyota is dedicated to safety and in honor of that, they created a new app feature called Toyota for Families. Basically, this app shows you how to install your child car seat safely in your N Charlotte Toyota. By doing so, you can reduce injuries in a car crash by 70%.
A little history on Toyota for Families is that it was developed by three mothers whose goal was to make this information about child car seat installation accessible to every driver. Jennifer Pelky (Toyota principal engineer of vehicle performance development for interior safety), Janelle Pharris (Toyota's advanced technology senior planner), and Lindsay Babian (principal engineer of body design for seats) all worked together and succeeded in the creation of this award-winning app feature and got it to launch in 2021.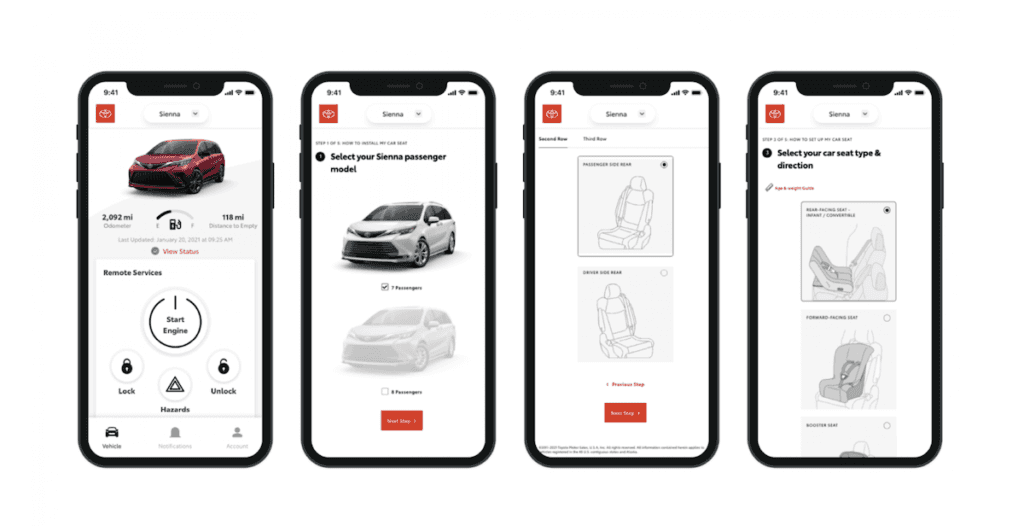 Check out some of the details:
Toyota for Families could be accessed via the Toyota owner's app or via the Toyota website.

Users are able to enter their VIN or select the mode and trim in order to specify which N Charlotte Toyota vehicle they'll installing the child car seat in.

Users can also choose the location where they will be installing the seat as well as the type of car seat they're using (whether it be forward facing, rear facing, or a booster seat).

Toyota also provides a guide to help you choose which type of car seat is best for your child based on their height and weight.
As soon as the above details are settled, the user is then shown a custom video along with a step by step guide on how to install a generic car seat into the N Charlotte Toyota vehicle they chose. The instructions are given for both the LATCH system and seat belt installation. If the user chooses an installation method that is incompatible, then the system will let them know right away.
As of now, the video and instructions on installing a child car seat are specific to the Toyota Sienna, but Toyota hopes to expand to the rest of its lineup in the future. Also, this app is accessible to both iPhone and Android users.
Shop a Family Friendly Vehicle in Toyota of N Charlotte
If you have any questions or are seeking to get yourself into a more family friendly vehicle, then get the ball rolling by calling Toyota of N Charlotte! You can reach us at (704)875-9199.