Toyota Safety Technology: Cabin Awareness
In the year 2021, 23 children died from a heat stroke after being left in a hot car. And, at Toyota of N Charlotte, we know that temperatures can easily reach over 100 degrees in the cabin of your car, and according to the non-profit Kids and Cars, one in four children die in a hot car without their parents or guardians realizing they even got into the car to start with. You might be thinking how can this happen and what can we do to prevent this? Well, Toyota came out with new Toyota safety technology to keep your little ones safe!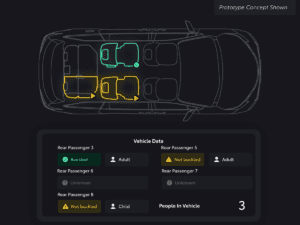 The 411 About the New Toyota Safety Technology 
Well, for starters this new Toyota safety technology uses 4D imaging to save lives daily. They just launched a brand new connected cabin awareness tech to detect people and pets inside the car. And, Toyota of N Charlotte is here to let you know all of the benefits of this new tech!
Cabin awareness is already in a lot of N Charlotte Toyota cars right now. This function reminds you if anyone is sitting in the car without a seatbelt once the car is started. Also, it'll flash a reminder to the driver to check the backseat when you turn your car off. But, the new Toyota safety technology is next level! Below are some of the highlights:
Cabin awareness uses millimeter-wave-high-resolution 4D imaging radar to see if people or pets are in the car.
This new Toyota safety technology is mounted above the car's headliner and scans the car even after you've left! If you've left anything behind, then your N Charlotte Toyota car will alert you.
This new Toyota safety technology senses micromovements like a heartbeat, respiration, and any movement from the occupants and scans even the third-row seating, cargo area, and the car's footwells. Under a blanket? This will still capture your presence.
When someone enters the car, the N Charlotte Toyota vehicle will alert the driver with a series of alerts. The instrument cluster lights up first, then the horn honks, next emergency lights flash, and then you'll have a notification and a text message. And, if you've programmed this correctly, then the cabin awareness will send an alert to your smart home device or emergency contact.
This new feature will be featured on a patent-pending concept in a new Toyota Sienna prototype, which will be further tested in the Toyota Sienna AutonoMaaS (autonomous mobility as a service).
And, this new Toyota safety technology is the only tech on the market that can monitor the cabin with a single sensor.
Stop by Toyota of N Charlotte! 
If you want to get this awesome N Charlotte Toyota safety technology in your ride, then stop by Toyota of N Charlotte! We're open seven days a week and we're conveniently located just off I-77 at exit 23 in Huntersville at 13429 Statesville Road. You can shop in person or online – call today for more info at (704) 875-9199!