Updates About the 2023 Toyota Sequoia
When thinking of SUV's in the Toyota lineup, you probably wouldn't think of the Toyota Sequoia. At Toyota of N Charlotte, we totally understand this. After all, this luxurious SUV hasn't really been the talk of the town or even resigned in a while. You'll be excited to hear that the all-new N Charlotte Toyota Sequoia is about to get a complete redesign! And, with a new redesign comes new features that we know you'll love! Get ready to hop on the Toyota train of knowledge, y'all!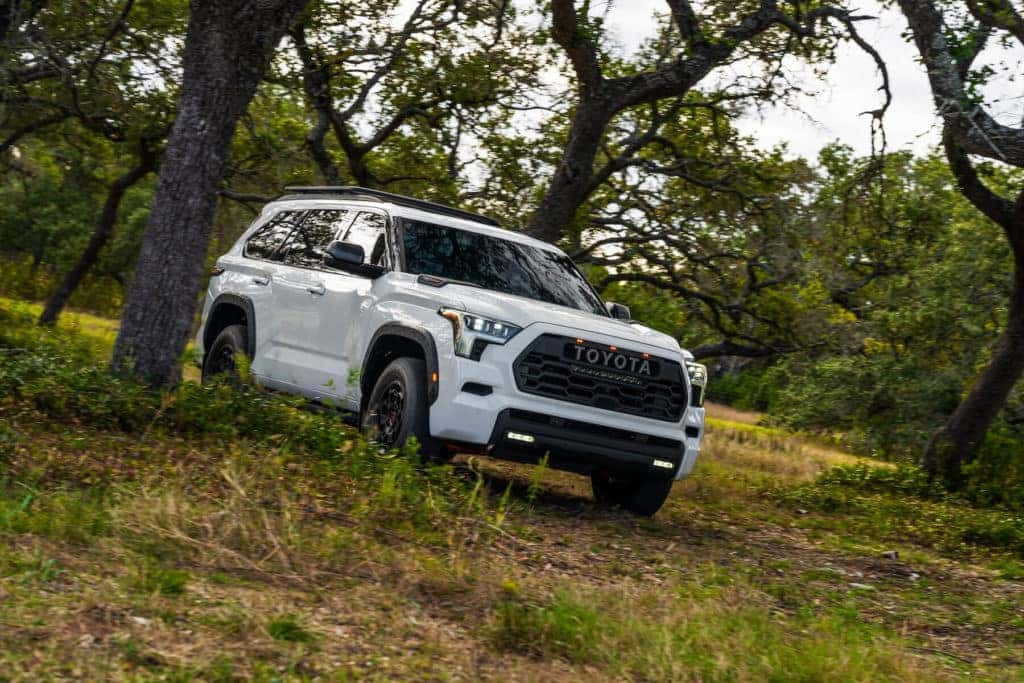 Exciting News on the Horizon About the Toyota Sequoia
Since the Land Cruiser has officially retired, it's time for another car to step into place. This is why the N Charlotte Toyota Sequoia is stepping up to fill the space of the beloved Land Cruiser.
This Toyota SUV will be the third generation. And, with the second generation coming out in 2007, we'd say it's long overdue for a new remodel.
This SUV will more than likely sit upon the throne of the TNGA-F platform, which we all know that the new Toyota Tundra sits on now.
This new platform provides many new safety features and ride quality improvements.
We're pretty sure that the 5.7L V8 engine is going to be replaced with something bigger and better! At Toyota of N Charlotte, we think that the engine will be replaced with a twin-turbo V6 and an iForce Max hybrid version that will offer 389 horsepower and 479 lb. ft. torque and 437 horsepower, and 583 lb. ft. Sound similar to the Toyota Tundra yet? Thankfully, this Toyota SUV will have both engine options available to you most likely!
Also, rumor has it that the 2023 N Charlotte Toyota Sequoia will offer similar trim levels like the Toyota Tundra, including a Capstone trim that is the definition of luxury. And, did we mention the amazing performance?
This N Charlotte Toyota SUV is going to have an entire, luxurious new look. The brand new 2023 Toyota Sequoia is going to feature a more rugged look that's angular, muscular, and aggressive!
This 2023 Toyota Sequoia will be introduced to Toyota dealerships soon this year. We're thinking possibly the end of the summer, but definitely within the next 8-10 months.
Also, there will more than likely be a TRD Pro trim grade that is all about performance. Dare we even say off-roading on the weekend with your best friends?
Visit Toyota of N Charlotte Today!
If you want to get your hands on a ride at our dealership, then stop by today! We have cars arriving daily, and especially the top-rated safety cars, too! Just book an appointment at (704) 875-9199! We're open seven days a week at 13429 Statesville Road! Just take exit 23 off I-77 in Huntersville. We look forward to helping you today! Also, stay posted on our social media with all of the updates about the N Charlotte Toyota Sequoia.