2023 Toyota GR Corolla MORIZO Edition
The much-hyped 2023 Toyota GR Corolla is making its debut at Toyota of N Charlotte. It's going to come to our dealership later this year, and it'll bring an all-new hot hatch option for drivers who want to add some spark to their everyday commute. But, we've got even more details to spill about the upcoming model – a special MORIZO edition is dropping soon and Toyota of N Charlotte has all of the details.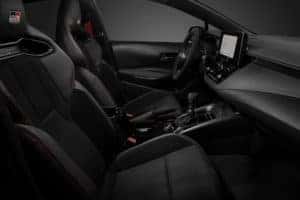 Juicy GR Corolla Details
The special edition GR Corolla is ready to tackle the road with tighter handling than ever before, a rigid body, and an exclusive power-to-weight ratio. Here's the latest we've got for you about this ride.
The MORIZO edition will have 300 horsepower and a super improved torque of 295 lb.-ft. (was 273 lb.-ft. on previous models), and increased performance on this ride.
This N Charlotte Toyota GR Corolla will sport an exclusive close-ratio intelligent manual transmission and shorter differential gears for more acceleration.
And, almost 100 pounds have been removed from the MORIZO edition to make this ride super lightweight and ready to race any car on the street. Even more, the curb weight is about 3,186 pounds! This was accomplished by removing the rear seats and adding forged carbon fiber on the roof and forged wheels.
Toyota also removed the rear door speakers, rear window regulators, and the rear wiper blade.
New 18-inch forged alloy tires will be added to the N Charlotte Toyota GR Corolla for better handling while driving. You can also look forward to the exclusive matte black finish and the Toyota GAZOO racing logo on the rim.
The N Charlotte Toyota GR Corolla will have red-painted monotone shock absorbers and a suspension that's tuned for racing.
The N Charlotte Toyota MORIZO edition will have the GR-Four all-wheel-drive system with an option to choose from 30/70, 50/50, and 60/40 front-to-rear wheel power settings and limited-slip differentials.
The interior is getting a fancy upgrade, too! You can look forward to a red and black ultra suede and leather trim seats, accented with high bolsters and harness holes, and an Ultrasuede wrapped steering wheel with a red sightline, shift knob, and parking lever.
The GR Corolla has a forged carbon-fiber roof, GR-four stamped side rockers, and a flat underfloor and rear lip spoiler to improve aerodynamics.
Additionally, rigidity increased by adding two more floor braces and one more rear strut brace, with 349 spot welds and six more meters of structural adhesive than the standard model.
Stop by Toyota of N Charlotte 
If you want to get behind the wheel of the N Charlotte Toyota GR Corolla, then stop by today! We're open seven days a week and we're conveniently located just off I-77 at exit 23 in Huntersville at 13429 Statesville Road. You can shop in person or online – call today for more info at (704) 875-9199!