2023 Toyota Highlander Turbocharged Up
At Toyota of N Charlotte, we're huge fans of the 2023 Toyota Highlander. This spacious N Charlotte Toyota SUV is a fan favorite for its roomy interior, and sleek design and its performance is based on safety and efficiency. This vehicle has been the number one retail midsize SUV for six whole years! But, the N Charlotte 2023 Toyota Highlander is getting some serious upgrades this year!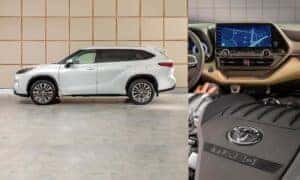 2023 Toyota Highlander Details 
So, what's all the fuss about this new Toyota SUV? Well, there's going to be a high-efficiency turbo gas engine that increases torque for better responsiveness. And, there will even be a dual 12.3-inch screen and power-folding mirrors for the Limited and Platinum models.
This brand new N Charlotte 2023 Toyota Highlander has a 2.4L turbocharged, four-cylinder engine that will have 256 horsepower and 309 lb.-ft. of torque.
Also, it's 17% more torque than the previous version. Just when you thought you'd never hear the words turbocharged and Highlander in the same sentence…Toyota makes it happen!
But, just because this Toyota SUV has more torque, doesn't mean that your fuel efficiency will suffer. It'll still be 24 mpg combined, which is what it was under the V6 hood.
And, the N Charlotte 2023 Toyota Highlander is more eco-friendly than the previous models, with a 50% reduction in NOx and NMOG emissions, with an improvement in CO2 emissions.
If you love to tow stuff for the weekend, then you'll love that this SUV can tow up to 5,000 lbs., and will include vehicle stability control and trailer sway control to make towing much easier.
The N Charlotte 2023 Toyota Highlander will come equipped with the premium JBL audio system with 11 speakers and upgrade your driving experience with a 12.3-inch display screen. The 12.3-inch full digital instrument is going to replace the old 7-inch TFT, and other drivers will be able to choose from themes like smart, casual, sporty, and tough. Look forward to the Qi wireless charging system that is located on the instrument panel shelf, too. This will make it even more convenient than ever in this spot! Not to mention that it'll be easier to use the GPS and drive safe.
The brand new hands-free power liftgate is available that is even better than ever! And, we know you'll love the new Cypress exterior paint color and Harvest Beige and Glazed Caramel interiors with black accent colors. Plus, the N Charlotte Toyota Bronze Edition will be back this year and will give you an even edgier SUV with unique characteristics to put in your driveway today!
Stop by Toyota of N Charlotte 
If you want to get behind the wheel of the N Charlotte 2023 Toyota Highlander, then stop by today! We're open seven days a week and we're conveniently located just off I-77 at exit 23 in Huntersville at 13429 Statesville Road. You can shop in person or online – call today for more info at (704) 875-9199!