Car Emergency: Items Stuck Under Your Car
If you've been driving for a while, then you've probably encountered something stuck under your car at some point in time. Especially if you hear funny noises underneath your car, then something is wrong. And, it's time to either get on your hands and knees and check underneath the body of your car or bring your car by Toyota of N Charlotte. So, how exactly do you go about this Charlotte Toyota car emergency? We've got the answers you need to drive safe on the road again! Let's dive in!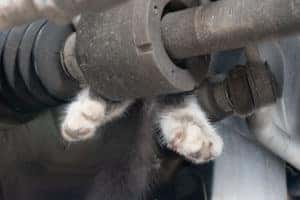 Car Emergency 101 
If you begin to hear a funny noise while driving, then you should pull over right away, and see if you can find what car emergency is causing the noise. If you're unable to figure out what is making the noise or are unable to reach what is causing the problem, then stop by our dealership and have our Charlotte Toyota auto service technicians fix it for you! So, what are some things that might cause you some problems underneath your car?
If there are children playing ball around or near your car, then you might find yourself in a car emergency. Children can easily kick a ball under your car, and depending on the size, it can be hard to get out. If you've got a big, thick basketball wedged under your car and can't get it out, then you can grab something sharp (a knife preferably) and stab the ball a couple of times to release the air. Then, you can finally pull that pesky ball out. If you drive a N Charlotte Toyota truck, then you can probably just push the ball out from under your car.
Another Charlotte Toyota car emergency is having a stick under your car or lodged into the undercarriage of your ride. At Toyota of N Charlotte, we don't recommend removing this on your own. You should get a tow to our dealership so that our expert auto service technicians can remove this for you.
One car emergency that needs immediate tending to is the undercarriage of your car if it begins to drag. This can become dislodged by going over speed bumps too rough or by debris that can break down the undercarriage of your car. A quick fix is to use some zip ties to hold it together until you can bring your car into Toyota of N Charlotte.
If you notice that you have an animal stuck inside your car, then don't drive the car at all. Instead, call the fire department immediately so that they can help you remove the animal safely. You can also include some peppermint oil in your car to deter any future animals.
Stop by Toyota of N Charlotte
For all of your car emergencies, stop by our dealership! Just book an appointment at (704) 659-2025. We're open seven days a week at 13429 Statesville Road! Just take exit 23 off I-77 in Huntersville.