Car Water Leaks
A good N. Charlotte Toyota owner knows that keeping up with their routine maintenance is essential for their car to be in the best condition. This includes keeping brakes, headlights, tires, and wipers in tip top shape. Although you may be on top of your car's maintenance, it's inevitable that things just happen so you have to be prepared for any situation—for instance having water leak in your car. If not taken care of immediately, a water leak can cause serious damage in your car. It can mess up the upholstery, ruin the leather, fry the electronics, and even cause rusting. If you are one of the unfortunate people to have to go through this, Toyota of N. Charlotte has your back in what to do after discovering a water leak in your vehicle.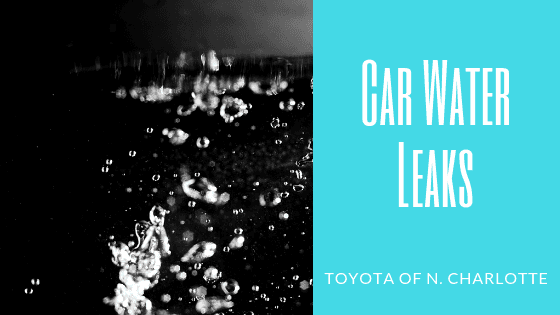 Finding a Water Leak 101
First things first, you need to find the source of the leak. If you see water dripping, then this makes it easier! If not, the best thing to do is to start from the bottom and work your way up. In addition, look for pooled water, rust, holes, or any damaged spot that may have caused this water leak.
Places to consider—recommended by the Charlotte Toyota service techs  are the sun roof, trunk seal, door and window seals, headlights and taillights, body seams, and aftermarket parts (if you installed rear spoiler or roof racks after buying your N. Charlotte Toyota). If you still can't find the root of the problem, then it's time to bring it in to Toyota of N. Charlotte so that our auto service techs could take a better look at it, because the problem may be mechanical. It could be due to a clogged AC drain, clogged sunroof drain or problems with the car's heater.
Found the Water Leak … What Next?
If the problem persists and you feel you're spending a lot on maintenance—we don't mean to take a huge leap, but how about considering purchasing a N. Charlotte Toyota? You could choose between new and used, all you have to do is take a look at our inventory and see which one is the best choice for you. We have a variety of vehicles to select from compact cars, to crossovers, to SUVs. It'll be hard to not be able to find the right car for you.
Having a water leak in your N. Charlotte Toyota is tedious work to have to fix on your own. So if you do ever run into this problem, Toyota of N. Charlotte has your back! Our auto service techs are ready to help no matter how minor or grand the situation. Schedule service online or call us at (704)659-2025. And again, if you feel it's time to purchase another car you can make an appointment to test drive a couple of vehicles. We're open Monday through Saturday and located at 13429 Statesville Rd just off of I-77 at exit 23 in Huntersville.