Differences Between a Moonroof and Sunroof
At Toyota of N Charlotte, we know you may have heard about a moonroof and sunroof in different Toyotas. And, you may be asking yourself what's the difference between a moonroof and a sunroof? Well, it's not as confusing as it might seem and it's actually pretty simple to decipher the difference between these two features. Let's dive in!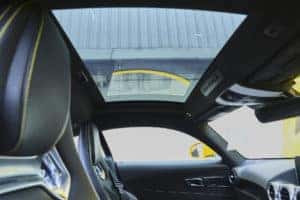 Moonroof and Sunroof Differences 
By now you probably have figured out that a Charlotte Toyota moonroof and sunroof are used interchangeably by most people. But, there are some key differences between these two awesome features. The main difference is that a sunroof is a glass or metal panel that's installed in a car, and a moonroof is a clear or tinted glass panel that is typically tilted open to let in some fresh air. So, let's get into the two one by one.
A sunroof is an opaque panel that's on top of a car and typically has the same paint color as the rest of the vehicle. This feature either tilts open or you can open it up all the way to let some fresh air in your ride.
A Charlotte Toyota moonroof is similar to a sunroof, but it's completely made of glass and can't be removed. However, they do tilt or slide open, letting you smell the fresh air and get your daily dose of Vitamin D. The moonroof interior sliding panel typically matches the rest of the car, giving your ride a seamless look.
At Toyota of N Charlotte, we admit that the moonroof is usually more popular than the sunroof and it's more modern.
Another difference between a moonroof and a sunroof is the introduction of the Charlotte Toyota panoramic roof. These cool, sleek panoramic roofs have become more popular than ever in the last couple of years according to CARFAX. This type of Charlotte Toyota roof is a large, glass panel that fits the entire roof length. This allows natural light to come into the entire cabin. And, you can even choose one that opens up as well.
So, how exactly do you maintain a Charlotte Toyota moonroof and sunroof? We recommend vacuuming and washing these roofs regularly, so you can make them last longer. Also, you should lubricate these auto parts regularly and schedule yearly car maintenance to extend the life of these roofs. Having regular car maintenance done to these different types of roofs will help you to avoid expensive auto repairs.
Stop by Toyota of N Charlotte 
If you want to learn more about a moonroof and sunroof, stop by Toyota of N Charlotte. And, if you need special car maintenance for these roofs, then we can do that for you on your ride! Just book an appointment at (704) 659-2025. We're open seven days a week at 13429 Statesville Road! Just take exit 23 off I-77 in Huntersville. We look forward to helping you out today!