The Logistics of a Toyota Convertible
The famous convertible. Known best for cruising beach side, soaking up the sun, and the reason why you carry an emergency hair brush in the center console. Convertibles represent everything whimsical and fun in the automotive world, but their popularity has waxed significantly in recent years to the point where you hardly see any on the road. In fact, can you remember a Toyota convertible after the Camry Solara? The reason for this is because of the painstaking design work in creating a convertible and the aerodynamic drag that leads to dramatic loss in fuel efficiency when driving at high speeds.
For a better explanation on Toyota convertibles, follow along with us at Toyota of North Charlotte!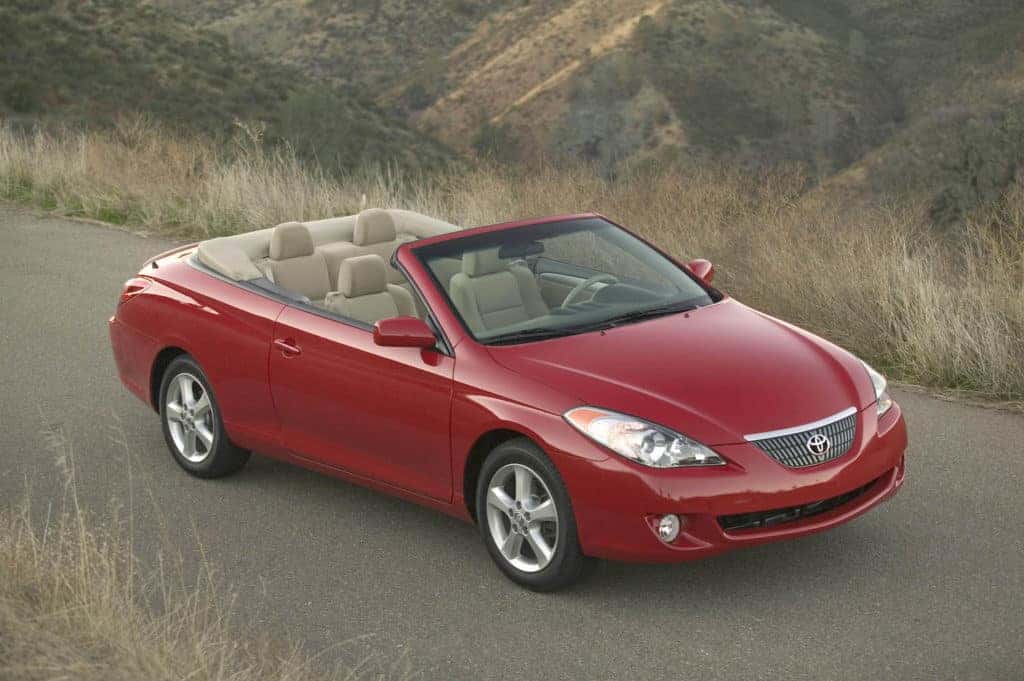 The Painful Truth of Toyota Convertibles
The Toyota convertible was at one point a very popular option among North Charlotte drivers. In fact, when the Mazda Miata was released in North America in 1989 it sold a million units and was acclaimed as the most popular convertible produced. The idea of soaking up the sun and connecting with the outside air while cruising down the highway or along a beach shore sensationalized this submodel of car. The popularity of the convertible ballooned well into the 2000s. Toyota didn't shelve the Camry Solara convertible until 2008, just to give you an idea. While some drivers have been clamoring for the next North Charlotte Toyota convertible, the submodel's lack of popularity tells a different story. The fun and beachy aesthetics of a convertible come at a heavy price, hence why their popularity has diminished so much. It all boils down to vehicle manufacturers' having to rework designs and how aerodynamics make for a poor fuel efficiency experience.
Convertibles from a Design Standpoint
Believe it or not, vehicle manufacturers can't just slap a soft top or a retractable hardtop on a current model and call it a convertible. The roof is a central part to your North Charlotte car and without it your vehicle's structural integrity is at serious risk. Because of this, automotive designers must take a vehicle back to the drawing board and redesign the body to accomodate for the lack of roof. This also presents a safety issue when it comes to Toyota convertibles. Without a roof, drivers are no longer protected in the event of vehicle roll or low hanging debris. Automotive designers must also take this into consideration when implementing safety features into a vehicle.
Convertibles from a Fuel Efficiency Standpoint
A big reason why vehicles like the North Charlotte Toyota Prius enjoy such stellar fuel efficiency ratings is because of its exterior design that greatly reduces drag. This allows a vehicle to move through air at high speeds without being slowed down or having to exert additional power to maintain speed. Toyota convertibles are prone to poor air trapping when driving at high speeds. That's why you'll sometimes see peoples' hair blowing the opposite direction when they're driving with the top down. This greatly reduces fuel efficiency and overworks your engine. Plus, North Charlotte Toyota convertibles are often designed with heavier bodies to compensate for the lack of roof which further puts a dent in fuel efficiency.
It's difficult to say if Toyota will ever venture into convertible territory again. But, if you're looking to get into a sporty Toyota model that's perfect for beach cruising and fun, you should check out the 86 and Supra! Shop Toyota of North Charlotte's inventory online today or visit the dealership at 13429 Statesville Road.